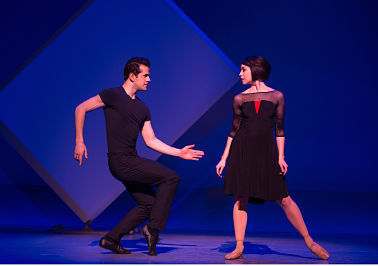 Is there anything more glorious than a Gershwin score?
The revamped An American in Paris, the Broadway musical at the Palace, is sui generis. There is no other musical on The Great White Way to equal it. The dance-driven production, ending with a stunning, 14-minute ballet that closes the show, is a triumph.
One big reason: It's not the 1951 movie musical.
The book has been reshaped. Crucially, Craig Lucas has written a cogent plot line, wisely moving the time back to 1945, so the joy of being alive for Jerry (Robert Fairchild), our American lead, is tempered by the sufferings of Paris, post-Occupation.
There are Jews! There are references to Vichy and collaboration! The sadness and suffering that Paris has endured under the Nazis is gradually giving way to hope for the future. A nuanced narrative positions the classic songs as more heartfelt and empathetic, rather than the strictly-for-entertainment value placed on the exuberant Vincent Minnelli film.
It opens as Jerry (NYC Ballet principal Robert Fairchild), an ex-GI, decides to stay in the war-torn city. He meets a pianist named Adam Hochberg (an excellent Brandon Uranowitz), when he stops by a café looking for a room. Adam says if he's a Jew, like him, the room is rent-free. Call it Parisian guilt.
Composer Adam, a stand-in for Gershwin's time in Paris, is smart and cynical. Jerry, an artist, is smitten with the City of Light. And it's on one of his sketching jaunts that he spies lovely Lise (Leanne Cope), who he falls for. Turns out, Henri Baurel (a nicely calibrated Max von Essen), who owns the café, is also enamored, though we don't initially realize they both love the same woman.
Love, in all its variations, hidden and overt, is on display. Rich dilettante Milo Davenport (Jill Paice) is eager to push Jerry's art -- and push him into bed -- as well as invest in a ballet company.
More telling, Lise is a ballet dancer in the script -- Cope is a corps dancer at the Royal Ballet -- making the ballet scenes far more relevant and adding dimension to the production. (Both Cope and Fairchild carry themselves well as singers and actors.) Indeed, everyone dreams of a creative life -- the chance for optimism to follow darkness.
But romance isn't the sole focus; the history of Paris during the war, the emotional aftermath of Henri's mother, Madame Baurel (Veanne Cox), whose stylishly brittle exterior hides it's own secrets, is a subtle underpinning. Duty and passion, honor and obligation, are all explored, set against the new energy that Paris now promises.
And nothing demonstrates that better than Bob Crowley's exquisite costumes and sets, non-objective art reminiscent of Kandinsky, Mondrian and Bauer, the amazing projections of Jerry's Parisian sketches and beautiful lighting from Natasha Katz, who also lit Gigi.
The songs, adapted and arranged by Rob Fisher, remind us why Gershwin's music ("An American in Paris," "The Man I Love," "But Not For Me," among others) is not only eternal but transcendent.
The ballet world's choreographer Christopher Wheeldon, makes an impressive Broadway directorial debut, proving he can produce not only balletic but show-stopping numbers, like Henri's glittering "I'll Build A Stairway to Paradise."
Indeed, from first note to last, thanks to a phenomenal cast and crew, the vibrant, breathtaking An American in Paris is perfection.
Calling all HuffPost superfans!
Sign up for membership to become a founding member and help shape HuffPost's next chapter