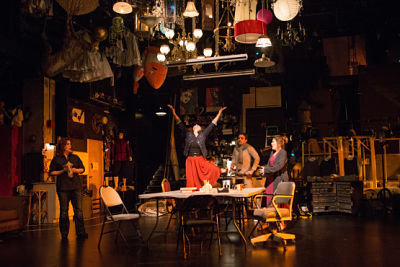 To paraphrase Shakespeare: "The set's the thing." That sums up the Pearl Theatre's final production this season, And Away We Go, in which audiences are taken on a quick ride through the theatrical canon. Sandra Goldmark's set design is an eye-catching collection of every conceivable prop -- from chandeliers to mermaids.
The set never changes, only the lively leaps through the centuries. We hurl from backstage at a production of The Oresteia in ancient Greece to the Burbages performing at Shakespeare's Globe Theater. Suddenly, we're in Moscow at the debut of The Seagull and just as quickly, enduring the pains of a failed 1956 American premiere of Waiting for Godot at the Coconut Grove Playhouse.
Playwright Terrence McNally's love letter to theater skips between the centuries with abandon. The two constants, he notes: Acting is a passionate but tough slog, and theaters are always in need of money, be it Chekov's time or the Pearl's.
The Pearl's six actors -- Rachel Botchan, Donna Lynne Champlin, Dominic Cuskern, Sean McNall, Carol Schultz and Micah Stock -- are adept at portraying a variety of actors and accents, though it's hard to track exactly where the play is going.
That's a shame, because McNally's (Master Class, Deuce, Love! Valour! Compassion!) appreciation for all things theatrical, even a dig at Edward Albee's ego, is pronounced. Away We Go is as much a history lesson as a reminder of the Pearl's impressive three-decade long existence. It's not just affectation that has the cash-strapped troupe kissing the stage on entry. But one wishes this talented crew had a more centered piece on which to make their case.
At the Walter Kerr, A Gentleman's Guide to Love and Murder is making an excellent case for bringing new talent to Broadway. Steven Lutvak (music and lyrics) and Robert L. Freedman (book and lyrics) have created a witty, clever, fun musical, based on the film Kind Hearts and Coronets.
On his mother's death, Monty Navarro (Bryce Pinkham) gets momentous news from Miss Shingle (Jane Carr). He is a long-lost relation of the wealthy D'Ysquith family and eighth in succession to become Earl of Highhurt, the D'Ysquith family seat.
His mother, disinherited because she married for love, was doomed to a meager existence in Clapham. Spurred by the realization his girlfriend Sibella (a delightful Lisa O'Hare) will only marry for money, and angry at his meager past, Monty decides to exact his own revenge. He comically knocks off all the D'Ysquiths who stand in his way -- with spectacular results.
The plot line is a delicious send-up of the British aristocracy, aided by songs such as "I Don't Understand the Poor," a droll salute to the indifferent 1%.
Jefferson Mays plays eight different D'Ysquith roles, including campy beekeeper, eccentric cleric and an over-the-top West End actress, and his performance is top-notch.
As stellar as Mays is, he shares the spotlight with Pinkham; together, they are a formidable team. Mays' role is showier, but it wouldn't work without Pinkham's charming presence and voice to center the production.
Staged in a jaunty Edwardian melodrama/British music hall style, A Gentleman's Guide boasts excellent pacing and a lively, sassy score. The costume and set design are spot-on, as is the artsy projections. Lauren Worsham is engaging as cousin Phoebe, and a versatile ensemble --Pamela Bob, Joanne Glushak, Eddie Korbich, Price Waldman, Catherine Walker, Jeff Kready, Jennifer Smith, Mark Ledbetter -- are uniformly terrific.
A Gentleman's Guide to Love and Murder, a satiric we-know-whodunit, is directed with panache by Darko Tresnjak.
Calling all HuffPost superfans!
Sign up for membership to become a founding member and help shape HuffPost's next chapter