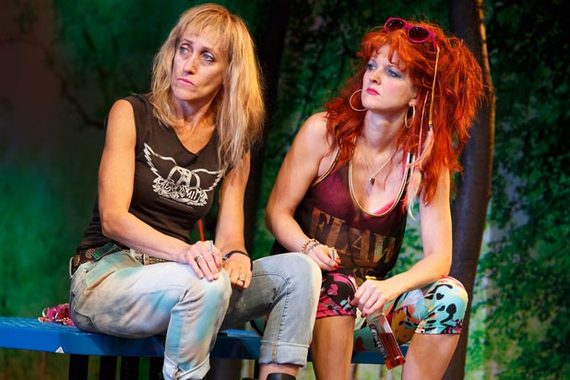 What is it about family dysfunction that gives rise to black comedy?
Robert O'Hara's biting play, Barbecue, now off-Broadway at the Public Theater, takes raw concepts of truth, fiction and entertainment and grills them over a well-lit flame. He confronts America's love affair with suffering, the obsessional nature of celebrity and the tricky issues of race and class and skewers them to a crisp.
The play opens in a park where a trailer-trash white family is holding court. The siblings - an alcoholic brother, two addicts and one take-charge sister -- are holding an impromptu intervention for Barbara (a terrific Samantha Soule), their crazed crackhead of a sister. Dubbed "Zippedy Boom," she's hell on wheels. As brother James T. (Paul Niebanck) notes: "When she taste liquor, she go Zippity. Boom! Period."
The profanity is so ratcheted up, it's hysterical, and the interactions are priceless. This is a family stripped of pretension and illusion: Everything is fair game. Of course, an intervention among losers -- "She can smell free liquor within 10 square blocks" -- is fodder for a humorist; but O'Hara takes a satiric turn.
Shortly after the white family clash, a black family appears. Same names, same insane situation. Is he suggesting addiction and dysfunction are universal issues? Or that color is secondary to the rancid aspects of class?
The twist to Barbecue is ripped from the pages of pop culture. A smack upside the head on the nature of "reality," Barbecue is a smart, sassy original.
Kent Gash's direction is exacting and well paced. And he gets equally sharp performances from the rest of the ensemble cast: Becky Ann Baker, Marc Damon Johnson, Arden Myrin, Tamberla Perry, Constance Shulman, Heather Alicia Simms, Benja Kay Thomas and Kim Wayans.
Barbecue sends up society's pathetic need to revel in the misfortune of others, while the few profit -- handsomely -- from it.
On the everything-old-is-new again front, the play adaptation of The Gruffalo, the latest incarnation of the acclaimed children's book at New Victory Theater, is a winner.
London's Tall Stories brings its staged version of a mouse (Ellie Bell) on a hunt for hazelnuts. But the dark spooky woods are full of dangers. So when she meets a fox, an owl and a maraca-shaking snake, they see her as something more than a fellow creature.
The only thing that can save the mouse is her imagination. Loaded with ingenuity, she invokes her scary strange-looking friend, the mystical Gruffalo, to keep her enemies at bay, proving that creativity can change our destiny.
With Tim Richey as the predators and Owen Guerin as the Gruffalo, the musical, with engaging, occasionally interactive songs, hits the right note among the audience. Based on an ancient Chinese folktale, The Gruffalo is a perfect story for ages 4-8. It's funny, but also trumpets smarts.
The performances are adorable, especially Bell's, a favorite with the kids, while Lisa Aitken's costumes are adorable.
The book, by author Julia Donaldson and illustrator Axel Scheffler, has sold more than 13 million copies in 58 editions worldwide. Their tale of a clever little mouse proves that less is more.