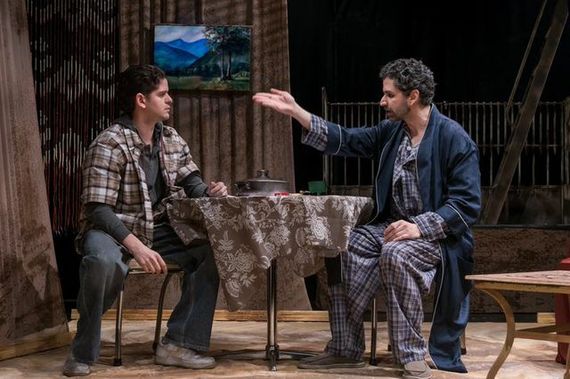 Illness is the great leveler.
It renders us vulnerable and open to truths we've consciously hidden from others and ourselves. For Nino, his sickness results in hallucinations. His fevered dreams of a troubled past in the Dominican Republic activate issues of betrayal, regret and sexual longing.
Barceló Con Hielo, written by Marco Antonio Rodriquez, who also plays Nino, poignantly delves into the tricky torment of memory with both humor and pathos.
Now off-Broadway at the Repertorio Español, Rodriquez posits a family drama in which two sons, the responsible Sergio, a young painter, (Ivan Camilo) and irresponsible Dennis (Javier Fano), cope with their ailing father. Set in Washington Heights, where Nino rails against fellow Dominicans, he is haunted by visions of Joaquín Balaguer, a former president of the Dominican Republic, and longtime aide to military strongman Rafael Trujillo, who ruled for three decades.
The suppression of human rights proves costly to Nino. His tragic tale is told in flashbacks. We meet Jastón (Modesto Lacen) his Army friend, who touts the new regime, and Fello (Jerry Soto), his revolutionary brother, who notes "dictatorship hides under the wing of democracy." His bitterness, like his disease, demands he confront his demons.
Rodriquez is adept at illustrating Nino's guilt and heartache, as well as the pain of generational conflict. He captures the rage of regret and understands that in order to come to terms with life, one is forced to make peace with -- or at least acknowledge -- the past.
Director Jose Zayas has done justice to Rodriquez's multilayered work, aided by solid performances from his cast. Barceló Con Hielo is a stark reminder of Tennyson's poetic line: "I am a part of all that I have met."
Popular in the Community