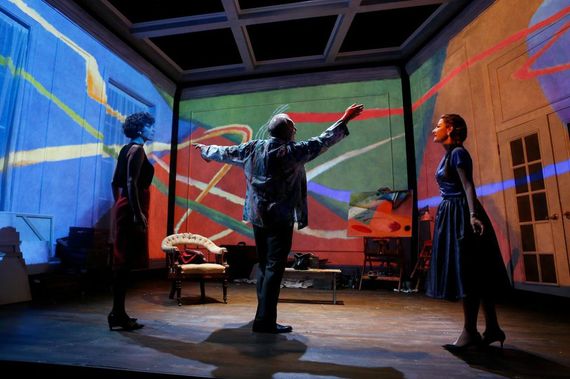 Artists, particularly great ones, don't always get their due. German painter Rudolf Bauer, one of the stellar prewar abstract painters, was lucky. He earned acclaim and money. His rags-to-riches story is fascinating, yet at the height of his creative power, he cried foul -- and refused to paint again.
His alleged betrayal, at the hands of Hilla von Rebay, former lover and legendary curator, and patron Solomon Guggenheim, is the essence of Bauer, an intimate, well-staged drama now off-Broadway at 59E59 Theaters.
Lauren Gunderson's play, which features an emotional confrontation between Bauer (Sherman Howard), Rebay (Stacy Ross) and Bauer's wife Louise (Susi Damilano) lets the sparks fly. Director Bill English's production, aided by Micah J. Stieglitz's projections of Bauer's art and Savannah Jo Lack's original score, is moving. Watching the articulate Rebay and impassioned Bauer spar is like watching lions attack. But the one voice we don't hear is a critical omission: Guggenheim's.
The controversy, in fairness, is about perception.
Bauer died a bitter man, angry at the deal he brokered with Guggenheim, which housed him in the industrialist's 25-room mansion in Deal, NJ, provided a Duesenberg car, a maid and awarded him a yearly stipend of $15,000 (per The New York Times, $225,000 in today's currency), the annual interest on a $300,000 bond. In exchange, Guggenheim drew up a contract that stated Bauer would sell him all work "now, here and in the future" for his foundation.
Bauer claims he thought Guggenheim was giving him the mansion and the $300,000, a staggering sum. Did Rebay translate the agreement accurately? Or did Bauer expect too much? Angered by what he now considers his serfdom, he stops painting, a broken man who rails against Rebay and Guggenheim with all the energy he can muster.
It all begins -- and ends -- with Rebay, a painter and tireless proponent of modern art. It's Rebay who brings Bauer to Guggenheim's attention, getting him to finance his Berlin gallery Das Geistreich (Realm of the Spirit) in the Thirties and bribing the Gestapo to let him out of prison. She's so obsessed with Bauer, whose works dominate Guggenheim's famed Non-Objective Museum and are solely featured on catalog covers -- to the consternation of fellow artists. Ironically, the future Guggenheim Museum, initially conceived to house his life's work, opened without a single Bauer exhibited, consigning him to oblivion.
Now, the forgotten artist is getting his reputation restored, thanks to a PBS documentary Betrayal: The Life and Art of Rudolf Bauer, Gunderson's play and an upcoming exhibit/auction at Sotheby's.
The thrust of Bauer, the tug between art and commerce, the clash of personalities -- is often riveting, though the arguments become circular too quickly. Ross is stylish and convincing, capturing some of Rebay's touted charisma, much as Howard champions his principles, fearing his own demise. Damilano holds her own as the maid turned wife, the woman who understands that true passions never die.
Gunderson deserves credit for resurrecting a compelling story about modern art and the controversy surrounding Bauer's betrayal, though cutting the repetition would tighten the drama. The real villain of the piece, Solomon's nephew Harry, and the issue of Bauer's personal responsibility, is skirted. Still, it's a smart, provocative effort and will do much to bring Bauer the acclaim he deserves.
Where Bauer is serious, Fabulous! is a silly, over-the-top trifle at the Times Square Arts Center. In a nod to Marilyn Monroe, Jane Russell, Some Like It Hot and the crazy Broadway comedies of yesteryear, two drag performers, Laura Lee (Nick Morrett) and Jane Mann (a solid Josh Kenney) get entangled in a wacky shooting and a nutty shipboard romance.
Lines like "We dreamed of becoming big stars"/ "What stopped you?"/ "Talent" may be groaners, but in context -- and throwing all sense aside -- they work. Add a stolen necklace, sloppy gangsters, tough molls and confused movie star Rock Henderson (Adam Kemmerer) to the mix, and it's like a chorus from one of the The Producers' numbers: "So keep your Strindbergs and Ibsens at bay...Keep it gay, keep it gay, keep it gay."
Yet it's so zany, the cast so sincere and the four dancers -- AJ Hunsucker, PJ Palmer, DaWoyne Alexander Hill and Aaron VanderYacht toe-tapping their hearts out, Fabulous registers a kooky charm all its own. There are some sweet songs by Michael Rheault (music) and Dan Derby (book and lyrics), and the bar even offers some Fabulous! cocktails.
Popular in the Community