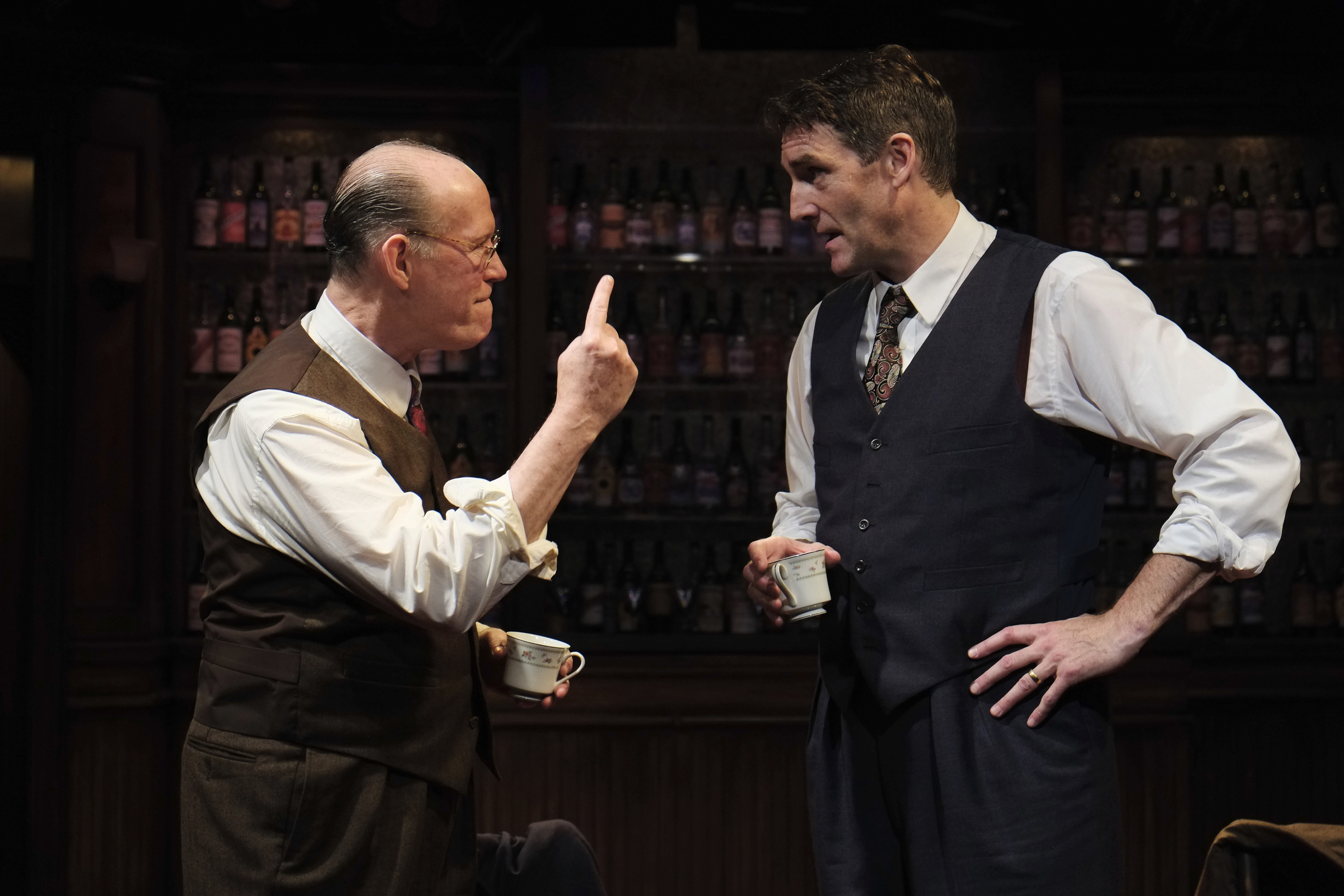 Millions of alcoholics worldwide can thank Bill Wilson and Dr. Bob Smith, in part, for their recovery. The founders of Alcoholics Anonymous met in 1935. Bill Wilson (Patrick Boll) was a few months sober, after wrestling for years with his addiction. Alone in Akron on a business trip, he fears he's about to drink. Desperate, he calls a local minister looking for other drunks.
It's the call that saved his life.
As recounted in Bill W. and Dr. Bob, now at the SoHo Playhouse, Wilson, a stockbroker, connects with Dr. Bob Smith (Timothy Crowe), who has been in and out of sanitariums and performs surgery drunk. His wife, Anne (Deborah Hedwall), much like Bill's wife, Lois (Denise Cormier), despair of their husbands. But as their story unfolds, the message becomes clear: Addicts can help each other recover.
While the play is a chronology of their fated friendship, it's also a look at two flawed men and the organization they created to help others. Stumbling for the right words, the right message, the two try the Oxford Group, but reject the overtly religious tone. Railing against their demons, they eventually devise a revolutionary way for alcoholics to regain control of their lives. A plus is the medical assurance Bill W. receives that his alcoholism is a disease, rather than a moral failing.
Their catchphrases -- "one day at a time," "feelings aren't facts" -- have entered the modern lexicon. Twelve Step programs are now ubiquitous. What's so moving about the production, pierced with dark humor and terrible suffering, is the understanding that individuals can alter their destiny. That makes Bill W. and Dr. Bob both inspiring and remarkable.
The performances are raw and all too real; Seth Gordon has directed a gripping human story, aided by excellent actors. Boll captures all the pathos and grit of Bill's swagger, while Crowe channels Bob's ornery spiral into oblivion. Similarly, Cormier shows great strength as Lois, while Hedwall's retelling of Anne's heartbreak is piercing. (The women were instrumental in founding Al-Anon.)
Daniel Pearce and Liz Wisan, who portray every other man and woman in the play, are first-rate.
Playwrights Sam Shem and Janet Surrey reveal all the ugly realities of alcoholism and its devastation on families. Rehab may be less brutal today than Depression-era cures, but the play's thrust, presented in cooperation with The Hazelden Foundation, is to spread a message of hope. It's also a strong theatrical vehicle; a reminder that there is power in community.
Related
Popular in the Community