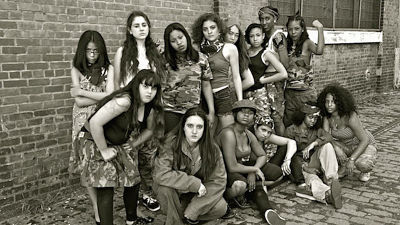 The power of theater will be aptly demonstrated at the SoHo Playhouse, which is devoting three nights, February 19, 20 and 21, for Breaking the Silence With Girl Be Heard, a unique theatrical work that highlights the global issues surrounding violence against women.
A joint effort between Girl Be Heard, a theater/educational program, and Human Rights Watch, the production uses monologues and songs to expose human trafficking, child marriage, rape and domestic violence.
An international cast has come together to give women a voice and bring the stories of survivors to the global stage. "Our girls are courageous in their efforts to share personal stories and break the cycle of silence," says Girl Be Heard CEO Jessica Greer Morris.
The cast and writers include: Gemma Aston, Susan Craig, Amelia Donker, Adam James, Fraser James, Charlotte Longfield, Katrina Syran and guitarist Jad Azkoul.
Written for the women's division of Human Rights Watch, Breaking the Silence was performed in Geneva 2013 and London 2014. Due to be staged in The Hague in April, it's appearing in New York to coincide with The World Day of Social Justice, two weeks after President Obama announced his campaign "It's On Us" to end violence against women and girls.
"Breaking the Silence shines an important spotlight on the issue of gender-based violence experienced by millions of women every day. Along with Girl Be Heard, this performance amplifies the voices of survivors through the power of theater," said Liesl Gerntholtz, executive director of Human Rights Watch's Women's Rights Division.
Girl Be Heard provides a safe environment for girls to write, direct and perform theater productions, aided by professional directors and actors. The theater company is inspired by the work of HRW and the stories of girls worldwide who have experienced injustice. Says Morris: "We leverage the power of theater to defend and protect the human rights of all girls."
The activist organization is often invited to perform on the steps of City Hall or in executive chambers to raise awareness about issues affecting our girls -- from bullying to domestic violence. "We work in partnership with lawmakers, from the Mayor's Office to the United Nations," she notes, "so we can stage the revolution for change."
For more information: girlbeheard.org/.
Calling all HuffPost superfans!
Sign up for membership to become a founding member and help shape HuffPost's next chapter