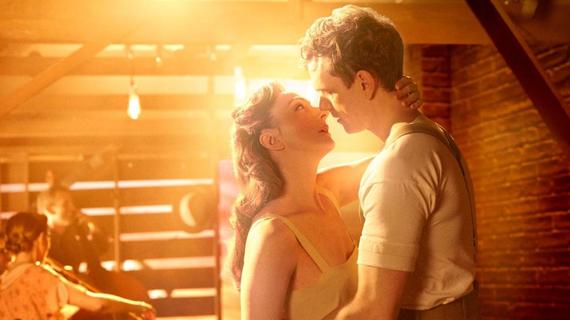 There are Broadway shows with intense music and choreography, at which in-your-face performances (American Psycho) or electric recreations of history (Hamilton, Shuffle Along) grab our attention -- and nominations.
But sometimes, there is a quiet, more intimate contender that merits attention. That category is owned by Bright Star, a Broadway bluegrass musical at the Cort Theater, headed by a Tony-worthy Carmen Cusack.
The brainchild of Steve Martin and Edie Brickell, the quirky, semi-Southern Gothic Bright Star captures two moments in time -- 1923, 1945-46 -- when the American South was caught between provincial values and post-war possibility.
There are two stories here -- and both are poignant.
The first begins in the Blue Ridge Mountains of North Carolina in 1923. Alice Murphy (Carmen Cusack, adept at playing a sassy teenager and a 40something career women) falls for local boy Jimmy Ray (Paul Alexander Nolan). But their passion doesn't lead to a happy ending.
Fast-forward to postwar 1946. Billy Cane (A.J. Shively), still in uniform, longs to be a writer like Hemingway and dreams of being published in a prestigious Southern literary journal. His childhood friend Margo (Hannah Elless) is encouraging and a little smitten. Billy keeps his eyes on the prize: Moving to Asheville to become a professional writer.
The simplicity of folksy Bright Star is in the economy of Walter Bobbie's direction and Eugene Lee's set design. The songs push a redemptive theme and the supporting cast, Dee Hoty, Stephen Bogardus, Michael Mulheren, Jeff Blumenkrantz, Emily Padgett, are sound.
And while the musicians, including a standout fiddler, are only partially seen, their music is notable. The second act opens with "Sun's Gonna Shine," promoting a resilient spirit. Even for those who aren't bluegrass fans, the score is a winner. Bright Star is a traditional musical with a dark edge. No bells and whistles, just heart and soul.
Conversely, the French troupe Le Clan des Songes has brought a work of theatrical magic to New York. CITÉ, at the 42nd Street Studio, is part of New Victory Theater's spring lineup.
Recommended for ages 3-5, with a running time of 35 minutes, it is inspired by the contemporary art of New York-based painter Evsa Model.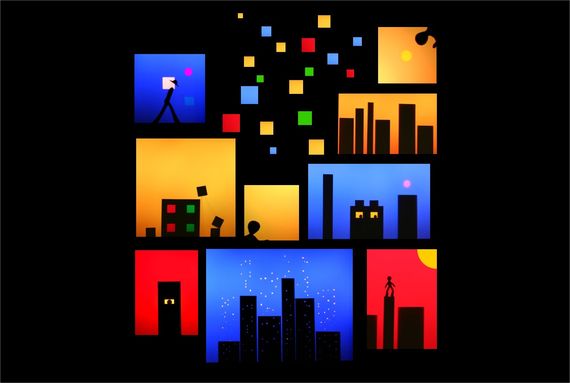 The sun bops from window to window during the day; nighttime has its own sensibility. There is an urban melody here that both children and adults will enjoy.

Think of a symphony of non-conceptual art -- shapes, colors, shadow and light. Animation meets original music by Laurent Rochelle in a novel way.

CITÉ is whimsical and existential all at the same time. The monochromatic colors are sharp and deep, while the abstract imagery is entertaining and clever.
Photo: Bright Star/Nick Stokes
Calling all HuffPost superfans!
Sign up for membership to become a founding member and help shape HuffPost's next chapter