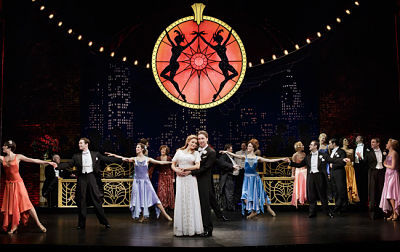 Is art worth killing for?
Woody Allen's new Broadway musical Bullets Over Broadway, an entertaining romp, thinks so. Based on his 1994 movie, with zippy direction by Susan Stroman, the musical comedy is fun. It's not quite the over-the-top craziness, with a dash of smarts, that made the film so memorable, but it's close.
Now at the St James, Bullets Over Broadway is splashy, rather than electric, thanks to sensational costumes and sets -- save the one of Greenwich Village, which is oddly misconceived. But as traditional musicals go, it mostly works -- with a proviso. Set in 1929, it's a musical without an original score. Glen Kelly, who adapted the period music, including great numbers like "Running Wild" and "Tiger Rag," played perfectly by the Atta-Girls, terrific singers and dancers who capture the Roaring Twenties.
The story is strictly screwball: David (Zach Branff), an earnest playwright, finally gets a shot on Broadway. The hitch is that his debut will be financed by a single backer, gangster Nick Valenti (Vincent Pastore), who brings a caveat of his own. Make his dopey girlfriend Olive (Helene Yorke) a star. That's a tall order, especially since the show has enlisted legendary diva Helen Sinclair (Marin Mazzie) has ideas of her own.
Throw in the critically artistic eye of Cheech (Nick Cordero), the heavy assigned to keep an eye on Olive, and Bullets Over Broadway shifts into high gear. Everyone in the cast, including Betsy Wolfe as David's girlfriend and Yorke as the goofy gun moll turned wannabe actress, hit their mark. Mazzie is convincing in her role, while Branff, making his Broadway debut, could use a few more sparks. Still, the crew's general silliness clicks.
Cordero's Cheech is a high point; it's hard not to enjoy the kooky world that Stroman/Allen have created. Woody Allen, who wrote the book, economized on some of the film's strengths, but the production still boasts good, old-fashioned showmanship.
By contrast, Violet, now at the American Airlines Theater, is a more intimate musical. The soulful country-style band sits backstage; the actors are downstage. Brian Crawley's book, adapted from Doris Betts' short story The Ugliest Pilgrim, is a sad tale of an adult's quest for beauty as redemption.
Tony winner Sutton Foster stars as Violet, a young Southerner disfigured at 13. Early on, she refers to the "axe blade" that "split my face in two." Desperate to be cured, she embarks on a bus trip from North Carolina to Oklahoma. There, she hopes to be transformed by a popular televangelist (Ben Davis), who makes outrageous healing claims.
The trip, which begins in a Nashville bus station in 1964, is meant as a journey of discovery. Stopping in Memphis, she meets two soldiers, a cocky white man named Monty (Colin Donnell) and a more sensitive black man called Flick (a moving Joshua Henry), who knows what it's like to be judged by appearance. The trio bond, but the catch, and it's a big one, is Violet doesn't get her revelation.
Flick provides the reveal -- that love is the only salvation -- weakening the dramatic structure. Despite a genuine poignancy -- Violet's back story is told in scenes with her father (Alexander Gemignani) and a younger version of herself (a terrific Emerson Steele) -- the play has moments of disconnect. Yet the raw humanity, especially in the segregated South, is touching.
The performances are strong, and Sutton Foster skillfully tackles both musical and dramatic moments. But even with Jeanine Tesori's tender score, more exposition would add greater coherence.
Happily, Lady Day at Emerson's Bar & Grill, a memoir turned musical at Circle in the Square, may not be more hopeful, but it strikes the right chord. Set in a Philadelphia club in 1959, a few short months before the great Billie Holiday died, it stars Audra McDonald. She brilliantly channels the legendary jazz singer -- her inflections, charisma and misery. McDonald captures Holiday at the end of her life: broken but still capable of moving an audience.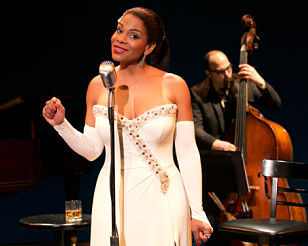 Lanie Robertson's play is thin, but she pays respect to both the pathos and the grit of this jazz phenomenon. Stumbling and drinking, Holiday relates the traumatizing moments of her life, including being raped at 10, how her first and "worst love," Sonny Monroe, got her hooked on heroin, and her relationship with saxophonist Lester Young, who dubbed her Lady Day, and her mother, "The Dutchess." She recounts teaming with Artie Shaw; among the first black women to work with a white orchestra.
Numbers such as "God Bless the Child," "What a Little Moonlight Can Do," "Strange Fruit" and "T'ain't Nobody's Business If I Do" showcase Holiday's essence -- a proud artist ill-treated by abusive men and a racist America.
Smoothly directed by Lonny Price, this is a solo show, though McDonald is backed by an excellent jazz trio -- Sheldon Becton on piano, George Farmer on bass and Clayton Craddock on drums. Billie Holiday's life was tragic; yet as McDonald hypnotically illustrates, she has left us her singular artistry.
Bullets Over Broadway photo: Paul Kolnik; Lady Day photo: Evgenia Eliseeva
REAL LIFE. REAL NEWS. REAL VOICES.
Help us tell more of the stories that matter from voices that too often remain unheard.