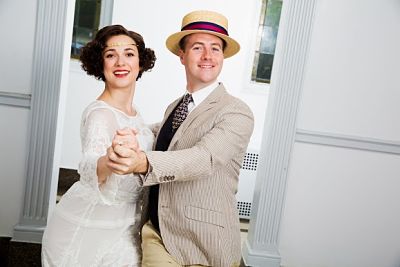 Vernon and Irene Castle, the famed dance team, defined modernity and elegance. They popularized the Foxtrot and ragtime and were toasts of Broadway. In their heyday, the 1910s, they were all the rage.
Progressive in attitude, the celebrity Castles traveled with a black orchestra and were touted as fashion trendsetters. Irene introduced American women to the bob and designed many of her stylish outfits.
But by 1938, when RKO decided to turn their story into a movie starring Fred Astaire and Ginger Rogers, Vernon was dead. And Irene, hired as technical consultant, was horrified at the liberties - from costume to story line -- the studio took. Castle Walk, part of the New York Musical Theatre Festival at the PTC Performance Space, begins with Irene's arrival in Hollywood. The production pays tribute to this notable pair, while commenting on the fleeting nature of fame and RKO's negligible relationship with truth.
Irene Castle (beautifully played by Lynne Wintersteller) is an elegant woman, a firm protector of Vernon's legacy and their collective history. She is forever reminding movie director H.C. (James Clow) about inaccuracies, horrified that Ginger Rogers (Lauren Sprague) refuses to look or dress in character. She's equally upset when white actor Walter Brennan is cast as her faithful friend and servant Walter; the real Walter Ash (Wayne W. Pretlow) was black.
As Castle Walk recalls the duos rise, it recreates many of the dances, done by Young Irene (Stephanie Rothenberg) and Vernon (Bret Shuford), that skyrocketed them to fame. While RKO is quick to take liberties, Milton Granger, who wrote the book, music and lyrics for Castle Walk, gives the Castles their due.
The pacing is a bit tricky at first, but as the bio-musical, aided by some lovely original numbers and a hardworking ensemble finds its footing, the production is injected with a nostalgic élan. True, the dancers can't hope to equal the Castles, and more exposition is needed to establish their celebrity cred, but it's a lovely, touching tale of the fleeting nature of fame and the enduring legacy of Vernon and Irene.
Conversely, Dancing On Nails, now at Theater 80, is a small, intimate play about ordinary people caught up in the travails of ordinary life. Longing, loneliness and desire play out against the backdrop of 1953 New York City. The play has the feel of a Playhouse 90; in the Fifties, it would have been cutting edge.
Written by Paul Manuel Kane, Dancing on Nails is the story of Sam (Peter Van Wagner), a 53-year-old curmudgeon who owns a successful Greenwich Village hardware store. He's assisted by his cousin Rose (Lori Wilner), a bookkeeper with a lackluster husband (Michael Lewis), who dreams of owning a jazz club. Each, to varying degrees, lives a life of quiet desperation.
What tilts the balance is part-time worker Natalie (Jazmyn Richardson), a 20something black girl. Despite her economic problems, she possesses artistic drive and a quiet dignity. In time, she and Sam form an unlikely friendship. But age, culture, romantic delusions and competing needs will eventually wreak havoc on everyone's life.
The issue of race relations, circa 1953, is interesting, and the performers are all adept. There are moving moments here -- especially when Sam discovers his heart's desire. Despite some odd expositions, Dancing On Nails has solid performances. Wilner, a Broadway vet, ably captures Rose's longing, while Van Wagner is poignant as a middle-aged man who discovers love, seemingly for the first time. The production can appear a bit creaky at times, but the pathos is all too real.
REAL LIFE. REAL NEWS. REAL VOICES.
Help us tell more of the stories that matter from voices that too often remain unheard.