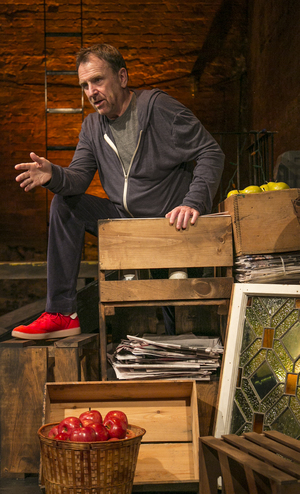 If you want an insightful, often-ironic look at the cultural ether, ask a comic. If you want to know how New York City's population operates, ask Colin Quinn. His The New York Story, now off-Broadway at the Cherry Lane Theater, zings ethnicity, political correctness and the bland stupidity of ignoring diversity.
He's not breaking new ground here, but for the baby-boomer generation, Quinn speaks a specific truth: "Everyone was prejudiced, but no one was racist." Long before society became "too cautious," ethnicity defined the Big Apple. And as Quinn gleefully notes, you "cannot celebrate diversity by not saying a word."
Instead, his smart, spot-on observations on the many groups that dominated the city -- from Native American to Dutch, British to Irish, Italian, Jewish, Puerto Rican, Asian and African-American -- come under fire. Quinn is not insulting; nor does he stoop to tired stereotypes. His entertaining, observational humor, directed by Jerry Seinfeld, notes a more profound reality: It's the wacky blend of divergent cultures that created that singular New York attitude.
His riffs on "relentless" Jews, "outside-inside" Puerto Ricans, "rude polite" Germans, aggressive Italians, swaggering black kids, work-obsessed Asians, et. al., are hilarious. Can't take it? Then you're not his audience. Quinn's laugh lines rest on recognizable behaviors. If we can't laugh at our cultural idiosyncrasies, what's the point of living in New York?
Remembering his own Brooklyn youth, he notes that however distinct each ethnic group was, all united around one overarching understanding: New York was the best city in the world. "People in New York really think they're better than everyone else," he says. "It's the only place you have blue-collar snobs."
Prefer the PC police, homogenized reality and faux positivity? Quinn's not your man. Want to parlay ethnic sensibilities into comedy gold? Run, don't walk, to the Cherry Lane Theater.
Same goes for Patti Lupone. If she's on the bill, I'm there. Gypsy, Sweeney Todd, Master Class, what does it matter? Lupone has lit up the stage since she first stepped on one. And Shows For Days at Lincoln Center is no exception.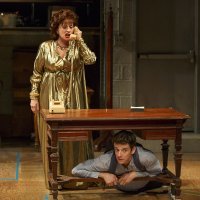 Lupone stars as diva Irene, a Jewish woman obsessed with community theater -- in Reading, Pennsylvania. "If theater was easy, the goyim would do it!"
It's 1973, the town is depressed and her sense of greatness stunted by her locale -- "I'm stuck here doing Ionesco for the Amish!" Yet she is willing to do anything to save the Prometheus Theater, an amateur troupe based on a real one in Reading, where playwright Douglas Carter Beane got his start.
Lupone's Irene is a force of nature. She's funny, focused and all consuming. When a real-estate scheme threatens to destroy the theater, she shifts into high gear. That's an aside, however, to the overarching tale of teenage Car (the charming Michael Urie of Buyer & Cellar) who narrates the story as a successful adult playwright looking back on his youth.
Young Car is enamored of the theater and Damien (Jordan Dean) a strapping 19-year-old. The rest of the cast is comprised of campy Clive (Lance Coadie Williams), ingénue Maria (Zoe Winters) and wisecracking stage manager Sid (a wonderful Dale Soules).
Beane keeps the action moving and is adept at snappy lines, poking fun at community theater and its crazy, behind-the-scenes dramas, while explaining why such places matter. But it's LuPone's show -- and she plays her role to the max. John Lee Beatty's set, William Ivey Long's costumes and Natasha Katz's lighting serve Shows For Days well.
The individual lines may be more substantial than the plot, but its zingy, occasionally touching moments, are never less than enjoyable.
Photos: Quinn/Mike Lavoie; Show For Days/Joan Marcus
REAL LIFE. REAL NEWS. REAL VOICES.
Help us tell more of the stories that matter from voices that too often remain unheard.