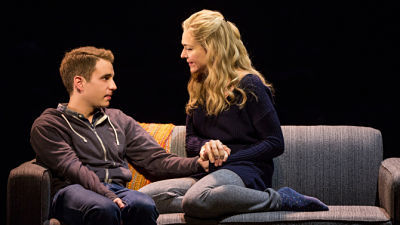 Troubled teens are popular on Broadway.

Dear Evan Hansen set in today's digital age, focuses on a socially awkward and isolated 17-year-old boy, while A Bronx Tale boasts a wannabe teen wiseguy in 1960s New York.
Both musicals offer vastly different takes on teen angst.
Dear Evan Hansen, at the Music Box, posits a sweet, but troubled boy. He's riddled with social tics and his caring, but overworked single mother (Rachel Bay Jones), has sought psychiatric help for his profound anxiety.
One answer -- writing upbeat letters to himself -- has unintended consequences. Evan (an amazing Ben Platt) shows up to school with a broken arm and tellingly, no one has signed his cast. Connor (Mike Faist), a troubled loner dressed in "school shooter chic" remedies that oversight.
But Conner's bravado masks inner torment -- and his suicide kick-starts the drama. By accident, he takes a letter Evan has written to himself. And suddenly, the wayward boy has a friend. Evan initially tries to correct the mistake, but when it gives him -- and other isolated classmates -- a new life, he's all in.
Plus, the truth would alienate his dream girl, Connor's sister Zoe (Laura Dreyfuss).
Snarky Jared (Will Roland) creates a false reality to cement the "friendship" and thanks to social media, where memory goes viral, Evan discovers purpose and identity. Connor's grieving parents (Michael Park and Jennifer Laura Thompson), heartened by the collective sympathy, get much-needed solace.
In fact, this production is a paean to the lonely and isolated, a fervent and lyrical plea to remember that everyone matters. "Is anybody waving back at me?" ends the song "Waving Through a Window." The moving music and lyrics by Benj Pasek and Justin Paul touchingly capture the pain and heartbreak of kids left outside the circle.
The ironies abound, and the nuanced performances underscore how we cling to meaning and purpose -- even when it has dubious origins. Fake news, murky truths contribute to this 21st-century story where community, however its defined, becomes everything.
Michael Greif's charged direction, coupled with David Korins' spot-on set design and an excellent cast, deliver an absorbing show.
The Hansen ethos -- "No one deserves to disappear" -- is memorable. And explains why audiences are gripped from the first moment to the last.
Conversely, Chazz Palminteri's autobiographical A Bronx Tale, now at the Longacre, morphed from off-Broadway play in 1989 to Hollywood movie to Broadway musical.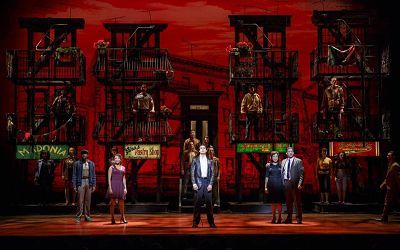 The story takes place over eight years in the gritty Belmont neighborhood of the Bronx, when young Calogero (a knockout Hudson Loverro) witnesses a murder outside his tenement.
The shooter is Sonny (an appealing Nick Cordero) the neighborhood Mafia big shot who takes the boy under his wing.
Sonny is treated like a king, as is Calogero, to the consternation of his father (Richard H. Blake), a decent hardworking bus driver who orders his son to stay away from Sonny and his crew, guys named Eddie Mush and JoJo the Whale.
But in a tough neighborhood, the lure proves too great. "The working man's a sucker," Sonny tells the youngster.
Once Calogero hits 17 (Bobby Conte Thornton) and high school, he hides his brains and ability, fearful his friends will mock him. But as he embarks on his own adult adventures, he seeks advice from Sonny, who balances menace with the occasional tender moment.
While the story line poses a classic dilemma between good and bad, the execution is conventional and Sergio Trujillo's choreography, which was electric in On Your Feet!, seems tired. Alan Menken's pop score is melodious -- "One of the Great Ones," Sonny's tribute to women is especially catchy -- but the show offers little dramatic tension until the last 20 minutes.
Still, the popular story, co-directed by Robert DeNiro and Jerry Zaks, has its fans and the solid cast, with strong performances from Thornton and the magnetic Cordero, won't disappoint them.
Photos: Evan Hansen: Michael Murphy / A Bronx Tale: Joan Marcus
REAL LIFE. REAL NEWS. REAL VOICES.
Help us tell more of the stories that matter from voices that too often remain unheard.