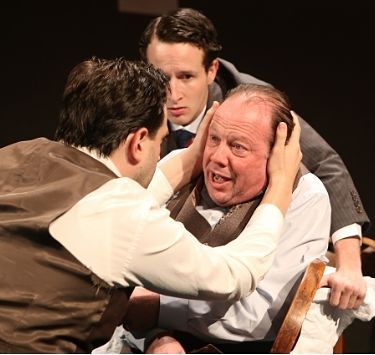 The power of Arthur Miller's Death of a Salesman is undeniable. The story of Willie Loman and his lost sons is a stirring commentary on the dark, underbelly of the American Dream.
In the New Yiddish Rep's version -- with English supertitles -- a remarkable cast beautifully captures its raw, realistic pathos. Avi Hoffman delivers a tour-de-force portrait of Willie Loman -- and attention must be paid.
Now at the off-Broadway Castillo Theater, this stellar production underscores what Arthur Miller admitted 50 years after its mid-century debut: The Lomans are a struggling, working-class Jewish family in Brooklyn.
Even if, in his words, they are "light years" from their roots. (An earlier version of Miller's play centered on a salesman named Schoenzeit, not Loman.)
Of course, all Americans can identify with Willie; but hearing this 1951 translation of Toyt fun a Seyslman brings home the power of a generation desperate to achieve success -- and the pressures it put on its children to surpass expectation. "A salesman is got to dream, boy, it comes with the territory."
Thematically meaty, the story of 60-year-old Willie Loman is an archetype of American overreach. He dreams big, but his salary, due to his reduced circumstances, can't cover his bills. Working for the same company for nearly 40 years, Willie is a traveling salesman who crows about his popularity, but whose final destination is oblivion.
Unlike his brother Ben, who "went into the jungle at 17 and came out at 21 with gold," neither Willie nor his oddly nicknamed sons, Happy (Lev Herskovitz) and Biff (Daniel Kahn), are risk takers. Or share the same vision. The boys dream small and squander opportunity. Security, the promise of American business, is trumpeted. But business, in the guise of his boss (Adam Shapiro), has its own ruthless agenda.
"Salesman" is all about dreams, identity and family turmoil. Muscular, likable men rival intellectual achievers like neighbor Bernard (Ben Rosenblatt) in the battle for social and economic supremacy.
Wife Linda (a standout Suzanne Toren) often a meek, shadowy figure in Salesman productions, is resolute throughout -- fierce in her devotion to her husband. She's willing to turn her sons out at the end, even knowing Willie's days are numbered.

Little wonder Salesman hit home. It addresses primal worries: losing a job, living in crowded environs, the fear that life has passed you by. Whether you see yourself or a family member or the sorrow of America's promise, Death of a Salesman skewers the myth of America's promise.
The production is part of the 100th anniversary of Miller's birth. Two of his most produced plays will appear on Broadway this season: A View From the Bridge and The Crucible, his McCarthy-era allegory. The 1951 Yiddish Salesman adaptation by Joseph Buloff is a testimony to the enduring strength of Miller's masterpiece.
Performed on a bare set, save for a table and chairs, the New Yiddish Rep's revival is riveting. Brilliantly calibrated by director Moshe Yassur, who gets exceptional performances from his cast, this version is not to be missed.
On a lighter note, the musical Hell's Belles, now at the Elektra Theater at the Times Square Arts Center, revels in camp. It's an entertaining romp with a simple premise: The audience is spending a moment in hell, entertained by a bevy of famous women.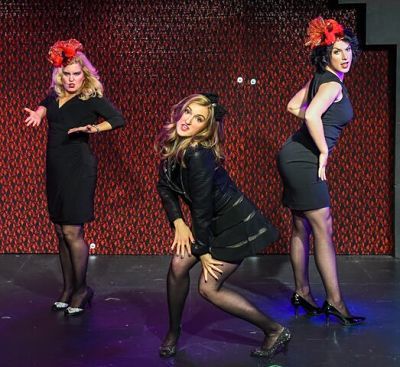 Hell isn't good or bad, it's all about ratings.
And some of the most intriguing women, from Eleanor Roosevelt to Janis Joplin, Judy Garland to Gertrude Stein, make their debuts. Marilyn Monroe is "dead and sexy, everything a legend out to be," while Salome is introduced as "the trash is taking itself out."
A medley of musical genres is neatly performed and parodied -- cabaret, country, rock 'n' roll -- all resulting in a devilishly good time. A talented trio (Lindsey Brett Carothers, Laura Daniel and Rachel Erin O'Malley) portray various roles, all introduced with appropriate Las Vegas-style patter by Lester (Matt Wolpe), Satan's rep.
There are the usual corny jokes, augmented by a few zingers - "Only Andrew Lloyd Webber could turn the wife of a tyrant into a star" -- and some sassy social commentary on the capricious nature of celebrity and the vagaries of history. Whether sending up Eva Peron or the bitchiness of Hollywood divas, Hells Belles is a zippy musical revue.
The hardworking crew, directed by John Znidarsic, may be in hell, but the entertaining romp is earthbound fun.
Photos: Death of a Salesman/Ronald L. Glassman; Hell's Belles/Russ Rowland
Calling all HuffPost superfans!
Sign up for membership to become a founding member and help shape HuffPost's next chapter