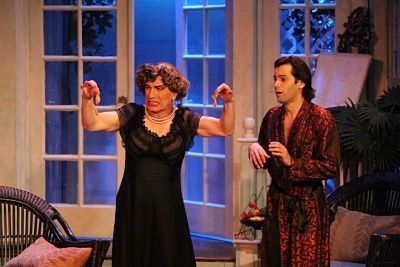 With a nod to the films Rebecca and Mildred Pierce, not to mention a sly reference to The Glass Menagerie, entertaining camp has scored again. Drop Dead Perfect by Erasmus Fenn, starring downtown actor Everett Quinton, is a clever send-up of movie queens and 1950s' melodrama.
Now at the Theater at St. Clement's, Drop Dead Perfect is fast-paced and funny. Set in 1952, Quinton plays Idris Seabright, an eccentric matron of a Key West estate, whose ward Vivien (a terrific Jason Edward Cook) and Cuban nephew Ricardo (Jason Cruz), double as the Lucy and Ricky of Florida.
Vivien, the victim of an overbearing Idris, has artistic ambitions, while Ricardo, a hot Latin boy with his own agenda, stirs up the household in unforeseen ways.
Idris, a rather demented grand dame, given to quoting her deceased sea captain father's off-the-wall remarks -- "I know how many beans make five!" -- is forever changing her sizable will. Obsessed with stillness, she wreaks havoc on loved ones, while hiding various family scandals and secrets.
The tale, narrated by Michael Keyloun, has a wonderfully overheated quality, thanks to a strong ensemble and Joe Brancato's lively direction. Paying homage to the outrageousness of Charles Ludlam's Ridiculous Theatrical Company, Drop Dead Perfect parodies pop culture from the '40s to the '60s with a keen eye and tongue-in-cheek naughtiness.
First done at the charming Penguin Rep Theatre in Stony Point, NY, the production utilizes Quinton's gift for oversized performances as he channels Joan Crawford, joined by a sexy Cruz, versatile Cook and even-keeled Keyloun. Sound designer William Neal's love of Laura-themed music, coupled with a perfect set by James J. Fenton, ensures the comedy clicks.
Drop Dead Perfect is delicious summer fare.
REAL LIFE. REAL NEWS. REAL VOICES.
Help us tell more of the stories that matter from voices that too often remain unheard.