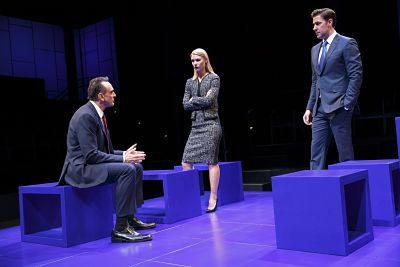 "Vacations are for amateurs," sneers Jenny, a cofounder of a private-equity firm. She's ambitious, smart and driven by excessive profits -- by any means necessary.
In short, in Sarah Burgess' Dry Powder, she's the epitome of Wall Street greed. Played to single-minded crisp perfection by Claire Danes, who stands ramrod straight; this woman will not bend.
Now off-Broadway at the Public Theater, Dry Powder finds humor in the intensely competitive elements of American capitalism. That is, in the rat-tat-tat dialogue zipping between Jenny and colleague Seth (John Krasinski).
They're at war over the takeover of Landmark Luggage, an all-American company in Sacramento that employs 653 workers, run by Jeff (Sanjit De Silva). Jenny sees virtue in outsourcing and liquidation of assets; Seth favors growth and keeping American jobs.
Given the excessive lifestyle of Wall Street, coupled by its longtime hunt-and-kill philosophy, Seth seems too good to be true.
Still, it would be refreshing to see his mergers-and-aquisitions attitude embraced by real-life peers.
Mediating between the two is a harried Rick (Hank Azaria), whose own indulgences, in lieu of recent layoffs, are proving a PR nightmare. This is the 1% in all their detached indifference.
Much of Dry Powder's point is that the financial world is so removed from daily life that people, places and things are reduced to numbers on a balance sheet. Yes, colleagues insult each other with glee, even try and make deals to get their own way. But the real problem: Private equity focuses on short-term gain. It is tone deaf to larger economic and ethical considerations.
That sterility is noted in Rachel Hauck's set design, blue square blocks in a theater-in-the-round staging. It's the words that matter. Or do they? The worship of Mammon is paramount. And in the articulated arguments, we hear all the reasons for late 20th and early 21st-century monetary implosion.
Burgess has written an interesting play. It's mostly surface, since her characters are, for the most part, fundamentally shallow, whatever personal delusions they possess. It does, however, reinforce our fears of Wall Street's easy betrayals. Her good fortune is to have such an expert cast deliver a well-honed message.
Uptown, The New Victory Theater is staging Théâtre de l'Œil's magical puppet drama The Star Keeper, which revels in object theater. Charming and funny, it's a colorful adventure story. Pierrot accidentally knocks a star out of the sky. But it's up to Pretzel, a worm, to somehow restore order.
En route, he has to journey through various characters and circumstances. He meets Maggie Mischief, a stubborn little girl given to bad temper, and her favorite toy, Uncle Bob, who has a little theater in his belly, where Sarah the Spider tap dances.
Along the way, Pretzel navigates sleepwalkers, seahorses, a bubble charmer and even Marlene the Mermaid, whose yellow hair is often mistaken for algae by the fish. Whether walking a tight rope or traversing the ocean's depths, he is determined to do right by the shining star.
The silly, humorous bits are juxtaposed with a unique artistry -- music and movement carry the day, captivating its young audience.