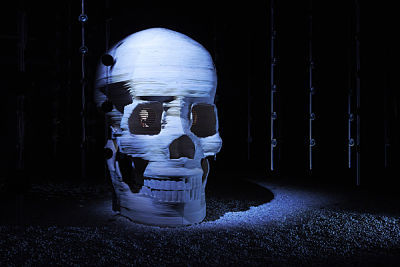 Samuel Beckett is having a good year in New York -- the acclaimed Broadway revival of Waiting for Godot with Ian McKellen and Patrick Stewart, another version, in Yiddish, currently at the Barrow Street Theatre in Greenwich Village and now Embers, his 1959 radio play, at BAM (Brooklyn Academy of Music).
Embers is a more inaccessible Beckett drama, yet even as it unnerves audiences, the work is strangely hypnotic. Beckett himself called it "ragged." On stage sits a huge wooden skull; actors can be glimpsed inside. It's surrounded by seaside stones and 562 small speakers hung artistically from the ceiling.
Lighting and sound effects augment the ramblings of Henry, who rants, raves and remembers tales from his life. Are the stories real? Are they hallucinations?
We never see Henry (Andrew Bennett) or his wife Ada (Aine Ni Mhuiri); they are two disembodied voices in a bleak Beckettian landscape. Henry is haunted by the disappearance of his father. No one knows if he committed suicide, drowned or "ran off to the Argentine." All we know is that Henry is shattered by the loss, and the last words his father said to him: "You're all washed up."
The characters rail to keep death at bay -- the repetition, the obsessions -- all a singular effort to stay alive. Regurgitating the trauma of their lives -- Henry and Ada share their own dysfunction -- has a kind of circular comfort. On the verge of non-being, "every syllable is a second gained." They hold onto memory, their sole defense against oblivion.
"Why life?" asks Henry. Yet the alternative is so final, even the terror of emotional suffering is preferred. In Embers, smartly presented by Dublin's Pan Pan Theatre, characters feel pain to feel alive.
The Harvey Theater is an ideal setting for Beckett, the direction by Gavin Quinn, sculpture by Andrew Clancy, lighting by Aedin Cosgrove and sound design by Jimmy Eadie is haunting. It's a play without action, but the emotional roller coaster, both meditative and moving, is a stark reminder of the fragility of life.
Calling all HuffPost superfans!
Sign up for membership to become a founding member and help shape HuffPost's next chapter