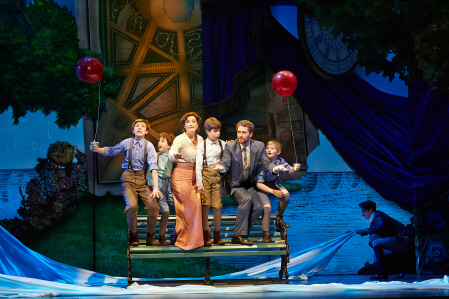 "With just my imagination, I create a speculation," sings J.M. Barrie, the writer of the immortal Peter Pan to his four young friends. The friends, of course, are the Llewelyn Davies boys that Barrie (Matthew Morrison), an acclaimed playwright, met in Kensington Park at the turn of the 20th century.
That fated meeting, and their subsequent friendship, was the inspiration for his children's classic and the impetus behind the charming Broadway musical Finding Neverland, now at the Lunt-Fontanne.
Neverland is a traditional musical blessed with moments of magic. That's thanks to Morrison, who, as the imaginative Mr. Barrie, carries the show from start to finish. (And who counts numerous Glee fans in the audience.)
Based on the film and the play The Man Who Was Peter Pan, the musical owes much to Scott Pask's excellent set design, Kenneth Posner's lighting, Suttirat Anne Larlarb's costumes and John Driscoll's evocative projections, which recreate a fantastical London, circa 1904.
The production opens with Barrie's latest West End play; he's famous, but has hit a creative impasse, which he explains to his producer Charles Frohman (well-cast Kelsey Grammer). Barrie is equally bored with the society his frivolous wife (Teal Wicks) covets. So he takes refuge in the Davies boys -- one is named Peter -- and their widowed mother Sylvia, an unconventional Edwardian willing to indulge her children's high spirits. Sylvia (a delightful Laura Michelle Kelly) also catches Barrie's eye -- she seems to be the impetus for both Tinker Bell and Wendy.
Romance aside, Neverland recreates all the elements -- Peter, villain, hook, clock and dog -- that will figure prominently in Peter Pan. Barrie has a gift for finding the extraordinary in the ordinary; while his longing for a place where boys never grow up, based on the death of his 14-year-old brother David, strikes a universal chord.
Songs "Circus of Your Mind" highlights Barrie's imagination; "Believe" convinces the boys to see beyond convention; Grammer pulls out all the stops in "Live by the Hook"; and "Stronger," a rousing pirate song which closes the first act, are memorable. However, the rest of the score, mostly pop melodies, are indistinguishable from each other.
There is joy and sorrow in Neverland, and both are sentimentally portrayed.
A second quibble in an otherwise crowd-pleasing effort: director Diane Paulus' uneven pacing. The first act is a bit slow, but builds to an impressive climax, act two is much the same, but also builds to a poignant end.
Finding Neverland isn't as high-flying as Peter Pan, but it does offer a touching and entertaining look at what happens when we let our hearts and minds soar above the crowd.
Conversely, The Belle of Belfast, the latest Irish Rep production at DR2, is what happens to people when violence, despair and alcoholism overrun a city. It is Belfast 1985, the paramilitary organizations Ulster loyalists (Protestants) and the IRA (Catholics) are engaged in an ongoing battle. And the consequences for Belfast's citizenry are devastating -- especially to Anne Malloy (a spot-on Kate Lydic), a teenager wrapped in anger and hopelessness.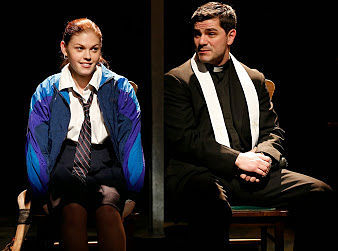 Her Catholic parents, blown up in a restaurant, are deemed heroes and martyrs. But all the 17-year-old can see is loneliness and "fecking" disappointment. She lives with a loopy aunt (Patricia Conolly), eager to find sin in the smallest detail. All that sustains her is friend Ciara (Arielle Hoffman) and talks with the local priest, Ben Reilly (Hamish Allan-Headley).
Reilly is a man torn between his devotion to the Church and earthly desires. He shares the priests' house with the older, alcoholic Father Behan (Billy Meleady), who dreams of going to Donegal and escaping the horrors of Belfast.
Escape is top of mind to Anne, too. The spirited teen's rebellious streak can't hide her pain or frustrations at Belfast's limitations. And it's her irreverence and brashness, thanks to Lydic's layered performance, that makes her a compelling character.
But that can't completely save The Belle of Belfast, directed by Claudia Weill, who gets terrific performances from her cast, particularly Lydic and Conolly. Author Nate Rufus Edelman deals with intense issues, but the play doesn't go deep enough. He's adept at creating a sympathetic study of individuals caught in circumstances beyond their control, but Belle feels more like an hour-long teleplay than a fully realized theatrical effort.

Photos: Carol Rosegg
Calling all HuffPost superfans!
Sign up for membership to become a founding member and help shape HuffPost's next chapter