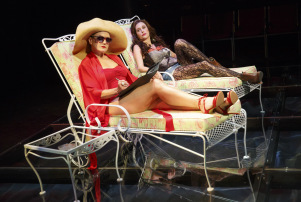 Here's the rub: The cast of First Daughter Suite is excellent. It's a varied tonal musical about the relationship of First Family daughters and their mothers, often more vitriolic than loving.
Then again, The White House is the people's house, not a family home. Men may lust for power; their daughters and wives are held hostage to political fate and fortune.
The premise is sound -- but the execution is off.
Now off-Broadway at the Public Theater, Michael John LaChiusa's First Daughter Suite -- a sequel to his chamber musical First Lady Suite -- focuses on four specific pairings: Pat Nixon (Barbara Walsh) and daughters Julie and Tricia; Rosalynn and Amy Carter, Betty and Susan Ford; Nancy Reagan and Patti Davis; and Barbara and Laura Bush and Barbara's deceased daughter.
Often, the actors play double roles, which showcase their talents.
It helps if you know the characters, but only marginally, as the interactions are less tabloid scandal and more about the private hostility and sadness behind the public persona. Politicians' families may have to mouth niceties about family values, but behind the scenes, all bets are off.
That's especially true of the chilly, waspish Nancy Reagan (a wonderful Alison Fraser) and a spot-on Caissie Levy as her emotionally abused daughter who endured one too many slaps from mom. She taunts Mrs. R with: "a big nasty black man / gonna turn this mutha out! "
But the in-charge Nancy controls more than her daughter's outburst; she's apparently in charge of White House firings, keeping the critical details from her forgetful Ronnie.
Susan Ford (Betsy Morgan) is plenty angry at Betty's alcoholic behavior, but the vignette goes off the rails. Mrs. Ford was progressive in her politics, but clearly in need of an intervention. Similarly, the Nixon opener shows sparring daughters on Tricia's wedding day. Dad's under wraps with Bebe Rebozo, something about Pentagon Papers. You get the drift.
Aside from the Reagan exchange, there is a strong performance by Mary Testa, a frequent LaChiusa collaborator, as Granite Granny Barbara Bush in Kennebunkport. She despairs of her daughter-in-law Laura (Rachel Bay Jones) and "mediocre" son George, whose presidency has undone his father's work. Why aren't her children more popular? She sings in a firm, demanding voice: "I raised them to be popular!" (Wait till she sees Jeb's future poll numbers.)
Her only solace, indeed her only vulnerable life moment -- and a decidedly poignant scene -- is conversing with dead daughter Robin (Theresa McCarthy). Which speaks volumes about the nature of political domesticity.
LaChiusa's previous musical at the Public, the first-rate Giant, did not get the run it deserved. This time, despite the occasionally witty retort, First Daughter Suite is too thin to merit the talents of its laudable cast.