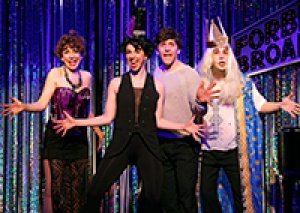 Since 1982, Gerald Alessandrini has been on a mission: to send-up Broadway musicals. His weapon of choice is the brilliantly satiric, expertly rendered Forbidden Broadway franchise, which has spawned 25 editions.
The latest, Forbidden Broadway Comes Out Swinging! at the jewel-box Davenport Theater, is an embarrassment of riches.
This is what entertainment is all about.
Each season, Alessandrini has mocked Broadway shows, or as his talented quartet croons: "lyrics perverted to put producers through hell." This round, with a mostly new lineup, he takes aim, with his singular panache, at Rocky, Bridges of Madison County, Aladdin, Les Mis, Cabaret and Pippin, among other targets.
If Broadway was as uniformly engaging and smart as Forbidden Broadway, there would be far happier theatergoers.
Part of the secret of his success is that he turns a gimlet eye on The Great White Way, coupled with a serious understanding of theatrical smarts. No one -- actors, writers, directors or producers -- escapes his scrutiny. This is a skilled satirist who knows and loves the art form. And, like any devotee, he cannot tolerate any assault on its legendary perfection.
Which is why Disney, "the grand wizard of formulaic," is zinged for Aladdin's campier aspects, much as Les Mis is gleefully hammered for being "reborn as revolution porn." From Rocky's incoherence to Cabaret's "revival of a revival of a revival" to Bullets Over Broadway's refusal to hire a composer, the current FB doesn't pull its punches.
That's part of Alessandrini's charm: He tears into sacred cows and popular shows with cynical comic abandon. Who else would have director Matthew Warchus, in the guise of Miss Trunchbull, call the kids of Matilda and Billy Elliot "vermin with Equity cards."
Of course, parody only works when it hits a bulls-eye. Award Forbidden Broadway Comes Out Swinging! a gold medal. It's hysterically funny and savvy at the same time. The trick is to find the crazy miscues in any musical, then transform it into over-the-top fare. It takes a master to craft that fine line between farce and cruelty, and Alessandrini walks that tightrope like Philippe Petit.
He's aided by an excellent ensemble: Scott Richard Foster, Carter Calvert, Marcus Stevens and Mia Gentile. They can sing, dance and act -- oft times better than those they spoof.
Calling all HuffPost superfans!
Sign up for membership to become a founding member and help shape HuffPost's next chapter