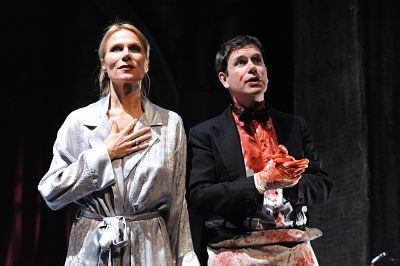 Shakespeare's Hamlet has inspired many variations - the latest is Howard Barker's Gertrude: The Cry, part of the Potomac Theatre Project at the off-Broadway Atlantic Theater Company.
Barker has used the backdrop of Hamlet -- the affair between his mother, Queen Gertrude (Pamela J. Gray), and uncle Claudius (Robert Emmet Lunney), to explain the story's deadly consequences. The overarching thrust is Gertrude's carnality; the sexual desire between her and Claudius is so intense, it inevitably transforms lust into murder.
Unlike the traditional image of her tormented son Hamlet (David Barlow), this round he's strangely unemotional about his father's death. The playwright has turned him into a semi-humorous adolescent moralist, or in his mother's words, "a prude." He is repulsed by Gertrude's cry, the ecstatic pleasure shrieks, servant Cascan (Alex Draper) explains, that will drive her to great dangers - no matter the consequences.
Such interpretations fit into the "theatre of catastrophe" theory Barker uses to describe his work, which he believes should give the audience a sense of dislocation, underscoring his larger point: Art isn't digestible.
Here, Barker relies heavily on Gertrude's severe sensuality (which Gray plays expertly) -- and her passion consumes all of act one. However, a disjointed second act goes into overdrive -- murderous plots, ruminations on sex and death and the sensual appetites of Albert, Duke of Mecklenberg (Bill Army) for the Queen. The problem is that Gertrude, despite respectable performances, is long-winded; the changes to the actual tale are a bit half-baked.
Unlike his excellent Scenes From an Execution, aided by the multitalented Jan Maxwell, Gertrude is confusing. Sex may be a powerful, primal stimulant, but it doesn't achieve the salvation -- in whatever form -- that Barker seems to claim for his characters. Nor does the direction, which despite solid cast performances, appears more collegiate than compelling.
REAL LIFE. REAL NEWS. REAL VOICES.
Help us tell more of the stories that matter from voices that too often remain unheard.