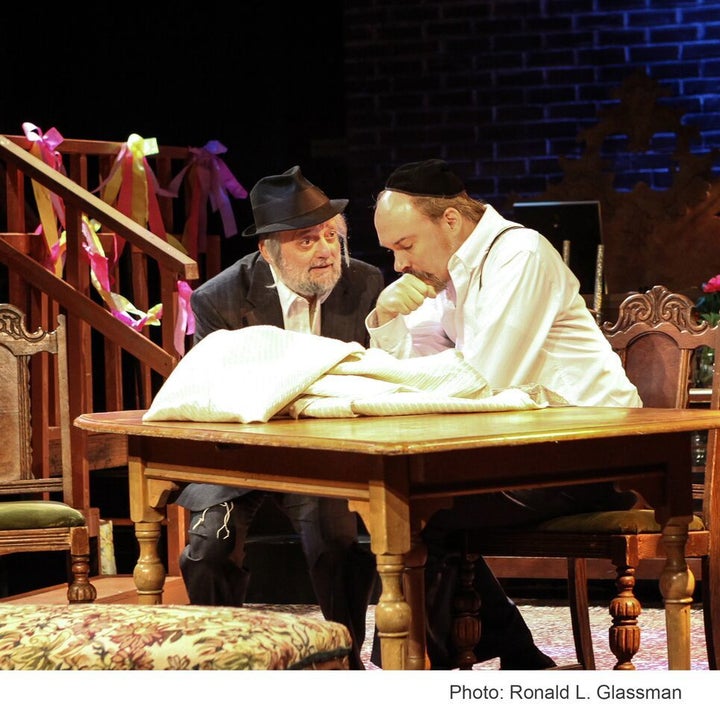 Few plays address religious hypocrisy, the nature of sin and family dynamics as powerfully as the Yiddish classic God of Vengeance, smartly staged off-Broadway with an exceptional cast at Theater at St. Clement's.
The New Yiddish Repertory Company, which produced an extraordinary Death of a Salesman two years ago, has delivered another theatrical achievement with Sholem Asch's 1907 masterwork. A Jewish brothel owner yearns for respectability. To achieve his goal, he longs to marry his daughter to a yeshiva student, while commissioning an expensive Torah scroll to illustrate his piety.
The radical setting — a home above a brothel — was jarring in the early years of the 20th century. It provoked audiences with scenes of Jewish prostitution, a lesbian affair and the effort to buy respectability. So controversial was God of Vengeance, the Broadway cast was arrested in 1923.
(Paula Vogel's stunning drama Indecent, transferring to Broadway's Cort Theater in April, addresses this real-life scandal.)
Over a century later, the play's themes still resonate. Yankl (Shane Baker) knows his livelihood is suspect — and sees daughter Rivkele (Shayna Schmidt) as the vehicle for his redemption. Reb Eli (David Mandlebaum), assured of a large dowry, is willing to broker the deal. But innocent Rivkele has fallen for Manke (Melissa Weisz), one of the prostitutes in her father's stable.
Their tender scenes are juxtaposed with the violence of Yankl and his pimp Shloyme (Luzer Twersky), hoping to set up his own brothel with the help of Hindl (a sharply calibrated Lea Kalisch). Asch's characters are multilayered: Women who sell themselves to escape arranged marriages, guilty parents eager to save their children from their own fates and religious figures willing to hide sin.
Yet what makes the play so memorable is its humanity: The heartbreak is real and layered. So is the hypocrisy, which resounds in any age.
The economy of Aaron Beall's well-paced direction fits the moving story, but it is the cast (and their back stories) that supply added depth. Five of the actors were raised speaking Yiddish in Hasidic homes. While they have left that insular world, their intonations and implicit understanding of religious tradition adds authenticity.
The ensemble is spot-on. Weisz and Schmidt deliver sensitive performances. Baker makes Yankl's competing tensions palpable, much as Twersky reveals the desperation that accompanies Shloyme's harshness.
This God of Vengeance is also the first production in Yiddish in decades; English titles are flashed on a screen. But what captures our attention is the universality of themes, however specific the locale. The impulse for social justice and truth that Asch promoted speaks to every generation.
This is a rare opportunity to see one of the 20th-century's heralded but least performed plays produced with artistry and insight.
Like God of Vengeance, the revival of Miss Saigon, now at the Broadway Theater, uses prostitution to underscore its thematic concerns. War is hell — and women are often the eternal victims of political fallout.
It's been more than 16 years since Cameron Mackintosh's Miss Saigon was in New York — and audiences who loved the operatic elements will be enticed anew by this production. And yes, its famed helicopter is a high point.
The musical opens in Saigon in 1975, in the last days of the Vietnam War.
Life is cheap. The American GIs treat women like dirt, as does the half-French, half-Vietnamese Engineer (an excellent Jon Jon Briones), who owns the nightclub patronized by the U.S. Army. Sleazy and violent, the Engineer caters to anything the young soldiers desire.
Yet amid turmoil, Chris (Alistair Brammer) and Kim (Eva Noblezada) fall passionately in love. Their on-stage chemistry is explosive, an apt backdrop to underscore the insanity that engulfs them. That includes the ominous Thuy (Devin Ilaw), Kim's cousin, who comes to Saigon to claim her.
Despite the best-laid plans, Chris is forced to abandon Kim — setting in motion an onslaught of guilt, terror and violence that will haunt them both.
This incarnation boasts a solid cast; they fully capture the heartbreak and horror of those caught in the crosshairs of war. Briones, who starred in the recent London revival, has nailed the oily, conniving hustler, notably in his big number "The American Dream," while Noblezada's debut is impressive. Bob Avian's musical staging is raw and engaging, while the Boubil/Schonberg score remains as entertaining as ever.
Popular in the Community