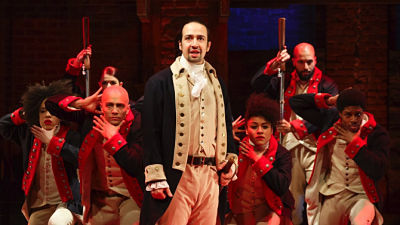 Ambition can be both exciting and theatrical -- a challenge Lin-Manuel Miranda has realized to great effect in the clever and electric musical Hamilton, now off-Broadway at the Public Theater.
The subject is scrappy founding father Alexander Hamilton. John Adams may have dubbed him a "bastard orphan son of a whore and a Scotsman," but the Caribbean immigrant to the U.S. quickly proved his mettle.
Escaping a tragic childhood, Hamilton was a man on the move.
Eloquent and driven, he embraced the revolutionary spirit of the late 18th century, eager, in Miranda's version, to "take his shot." And he did it with astounding results. Hamilton was General George Washington's right-hand man during the Revolutionary War; he helped fashion the Constitution, devised our banking system and was first Secretary of the Treasury.
Miranda conceives this brash newcomer as a rapper and has duly constructed his hip-hop musical to both educate audiences about America's political birth, while underscoring Hamilton's relentless desires and vision. But Hamilton isn't just a political treatise; it also examines his family life and domestic travails that plagued him.
"The ten-dollar founding father without a father / Got a lot farther by working a lot harder / By being a lot smarter / By being a self-starter."
Yes, and we all know how much the establishment loves immigrants.
That's Miranda's point: How we are perceived and who tells our tale matter. The characters are well-known figures: James Madison (Okieriete Onaodowan), Aaron Burr (Leslie Odom, Jr.) and George Washington (Christopher Jackson). There is also a wonderfully sassy King George (Jonathan Groff), while Thomas Jefferson (Daveed Diggs) prances about with an entitled swagger. One is almost tempted to scream: "Check your privilege."
There are many pluses to the inventive "Hamilton," including inspired choreography and an energized cast, expertly directed by Thomas Kail, that smartly delivers lyrics at rapid-fire speed.
Admittedly, Miranda doesn't have the strongest singing voice in the cast, but kudos to him for a triple play: book, lyrics and music. Hamilton is a strong, original work that retells a key piece of American history in an accessible and lively way. The show, based on Ron Chernow's book "Alexander Hamilton," neatly makes the point that nasty political feuds, backbiting and sex scandals are nothing new. And that good men are often silenced by mediocre ones. You can't get more contemporary than that.
For Larry David's Broadway debut, Fish in the Dark at the Cort, contemporary is a '60s-'70s-style comedy, in which Jewish shtick figures prominently. The plot circles around the deathbed wish of his father (Jerry Adler), who wants his wife Gloria (Jayne Houdyshell) to live with one of his sons. Cue the fight between Norman (Larry David) and Arthur (Ben Shenkman).
Fans of Curb Your Enthusiasm will rightly see David as a stand-in version of his HBO self. Indeed, Fish in the Dark plays like an extended Curb episode -- without the nuances. Which is to say that it is funny -- and a crowd-pleaser -- it's just not very substantial. Plus, some of the stereotypes, such as the Jewish mother, get old quickly -- though this version throws in an unusual twist.
Like Curb, the humor is driven by awkward conversations and parsed behaviors. To win the battle with his brother, Norman conceives a wacky Seinfeld-like scheme with his parents' housekeeper (Rosie Perez) and her son Diego (Jake Cannavale). After all, over-the-top scenarios are a David specialty.
The cast, directed by heavy drama hitter Anna D. Shapiro, includes Rita Wilson as his wife and the always-enjoyable Lewis J. Stadlen as an uncle. In fact, all 18 cast members acquit themselves well, even if the demands on them are limited. Funny, sure. But even Larry, in his more honest moments, might raise his arms, cock his head to one side and utter his usual: "Eh."
But he'll also get the last laugh: Fish in the Dark opened with a $13.5 million advance in bookings and is grossing more that $1 mil a week.
Calling all HuffPost superfans!
Sign up for membership to become a founding member and help shape HuffPost's next chapter