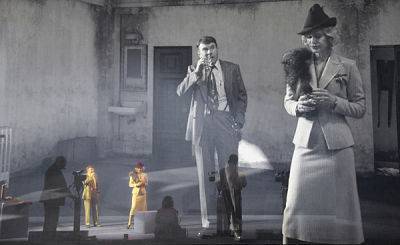 Helen Lawrence, a theater-meets-cinema multimedia production, part of BAM's Next Wave Festival, is not to be missed. Running through Oct. 17, the clever, ambitious effort, the brainchild of Canadian Stage, is hypnotic to watch.
Actors perform the hard-boiled story on stage, as several cameras shoot the action -- broadcast simultaneously in black-and-white on a huge see-through screen.
Set in 1947 Vancouver, Helen Lawrence borrows key film-noir elements: a classy blonde (Lisa Ryder) from LA is on a revenge mission, staying at a seedy hotel in a world populated by bent cops, gamblers and prostitutes. She's looking for justice. Or is she? And who was really behind the murder of her husband?
The actors perform behind the floor-to-ceiling scrim; it's sight, sound and motion in two dimensions and mediums. Conceived and directed by visual artist Stan Douglas, Helen Lawrence is a slick integrated experience: a staged film noir married to sophisticated digital tech. It underscores the power of cinema -- the real-life action is dropped into renderings of period footage, such as trains and alleys -- while touting the importance of live performance.
The result is mesmerizing.
The seedy underbelly of people living on the edge is beautifully captured here. There is a sense of immediacy that fuels the plot line. Written by Chris Haddock, whose TV credits include Boardwalk Empire, the storytelling is sharp, but it's the double-vision trick that ups the artistic ante.
The cast of 12, including Crystal Balint, Greg Ellwand, Ryan Hollyman, Sterling Jarvis, Nicholas Lea, Allan Louis, Ava Jane Markus, Hrothgar Mathews, Haley McGee, Emily Piggford and Adam Kenneth Wilson, are top-notch.
All are aided by Nancy Bryant's costumes and John Gzowski's sound design.
"Theater has always incorporated technology, starting with electric light. And cinema came out of theater," Douglas told American Theatre. "So this is like closing the circle."
A few weeks ago, Les Miserables celebrated its 30th birthday -- and it's easy to see why. The tale of 19th-century revolutionary France is juxtaposed with the compelling story of Jean Valjean (Alfie Boe), brutally imprisoned for a minor crime. He escapes his captors to lead a laudable life for himself and his adopted daughter Cosette (Alex Finke), the child of the sacrificing Fantine (Montego Glover).
Yet Valjean is relentlessly pursued by police chief Javert (Earl Carpenter), who puts duty above compassion or redemption. It's the battle royal of good vs. evil.
The latest Broadway version at the Imperial Theater opened in March 2014 -- its third time on The Great White Way. Despite an acclaimed 2012 film, the current revamped rendition still scores. Thank the casting director. The four new leads are excellent. An added plus: the massive spinning turntable is gone.
Tightly directed and beautifully paced by Laurence Connor and James Powell, with fresh orchestrations, stagecraft and costumes, the current cast does itself proud. (The original 2014 revival cast included Ramin Karimloo, Will Swenson, Nikki M. James and Caissie Levy -- tough acts to follow.)
The creation of two Frenchmen, composer Claude-Michel Schönberg and lyricist Alain Boublil, Les Mis has been seen by millions worldwide. (Herbert Kretzmer adapted the English lyrics). Based on the Victor Hugo novel, it strikes a resonant chord in audiences, seduced by the sweeping saga of romance and rebellion.
The moving sets by designer Matt Kinley, once eerie and painterly, were inspired by the paintings of Victor Hugo. Projections by Fifty-Nine Productions are spot-on.

Many fans have seen Les Mis more than once; and for aficionados, this version, highlighted by Boe's muscular performance and Carpenter's merciless pursuit, is a credit to the cause.
Calling all HuffPost superfans!
Sign up for membership to become a founding member and help shape HuffPost's next chapter