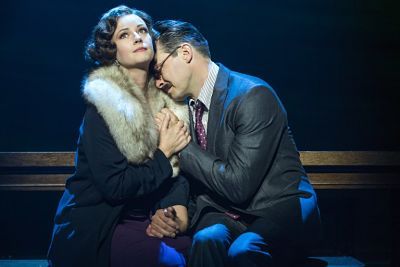 James Joyce's literary legacy is secure -- but his story is incomplete without a larger understanding of his muse. Himself and Nora, now off-Broadway at the Minetta Lane Theater, fills in that essential gap in a smart, lively fashion.
Its singular take offers a portrait of the artist as a man, focusing on his turbulent decades-long relationship with Nora Barnacle, his partner and later wife.
With a tuneful pop score, replete with an Irish twist, it neatly gives an impressionistic look at the great writer, personal and professional, courtesy of the talented Jonathan Brielle, who is responsible for music, lyrics and book.
Joyce (an athletic Matt Bogart), one of the great 20th-century writers, owes a debt to his relationship with the captivating Nora (a wonderful Whitney Bashor.) Sexually liberated and witty, she provided the inspiration for many of his literary women, most notably Molly Bloom in Ulysses. "Without your voice, there is no Joyce," makes a concise lyric.
It echoes a letter from Joyce to Nora, in which he notes: "Everything that is noble and exalted and deep and true and moving in what I write comes, I believe, from you."
Plus, it underscores the alchemy between the couple. Bogart and Bashor have chemistry on stage, capturing their obvious, lifelong attraction.
The two met in 1904 and soon left for the Continent. Despite Joyce's jealousies, temperament and financial difficulties, they stayed together the rest of their lives. They remained unmarried for 27 years; given his new fame in the wake of Ulysses, and concerned with issues of inheritance, they wed.
For Joyce, she was his "land of Erin." For Nora, the passionate relationship, scandalous by turn-of-the-century standards, gave her the equality she demanded. He lives in his head; she's practical and emotional.
As Himself and Nora illustrates, his obsessive devotion to his work, despite numerous rejections, turned him into a modernist phenomenon. But it made life exceedingly difficult for Nora, son Giorgio and daughter Lucia, later institutionalized for schizophrenia.
Joyce never doubts his genius; he writes as an act of freedom. Yet he drinks away what little money he earns, not unlike his alcoholic father, who shirked his familial responsibilities and drove a once middle-class family into poverty.
It's not until Portrait Of The Artist As A Young Man is published in 1916 that Joyce begins to receive money from patrons, helping to pay, in part, the expenses of his long-suffering family.
The impressionistic play notes the overarching influence of the Church, which Joyce rejects as "syphilitic Catholicism," hating its hypocrisy and cruelty. (That specter forever appears in the form of a priest (Zachary Prince). Joyce may have rejected the church, but it's forever with him.
The musical also records the incalculable help Joyce received from publisher Sylvia Beach (Lianne Marie Dobbs).
Himself and Nora is a well-crafted tribute to two amazing people. And it chronicles a daring writer, capturing his time and tribulations with verve. Michael Bush directs a strong cast (Dobbs and Prince play various roles) in an intimate production that will inspire audiences to read or re-read Joyce anew.
REAL LIFE. REAL NEWS. REAL VOICES.
Help us tell more of the stories that matter from voices that too often remain unheard.