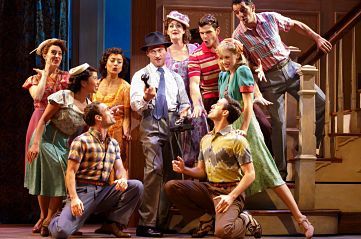 As Jerome Kern once noted: "Irving Berlin is American music."
For fans, his greatest hits from Broadway shows and movie musicals are on display in Holiday Inn, billed as "the new Irving Berlin musical, now at Studio 54.
Roundabout Theater's Broadway tuner has revamped the 1942 Astaire/Crosby film, moving it to 1946. It's no longer a Christmas show; it's a tribute to Berlin's songbook.
Jim (Bryce Pinkham) decides to leave show biz and buy a Connecticut farm. His dancing partners, Lila (Megan Sikora) and Ted (Corbin Bleu), have other ideas.
Jim opts for the rural life; the others follow the bright lights. Scenes neatly move between the two.
Running a farm is tough, so when the going gets tough, it's time to put on a show! Jim transforms the farm into Holiday Inn, helped by sassy handywoman Louise (a standout Megan Lawrence), and Linda, a schoolteacher who doubles as a romantic interest (Lora Lee Gayer).
A compilation of Berlin's best loved songs, such as "Blue Skies," "Heat Wave," "White Christmas," "Cheek To Cheek," are shoehorned into the plot, though colorfully staged. That's thanks to Denis Jones' choreography, a hardworking ensemble and appealing leads.
Holiday Inn is strictly jukebox musical lite; bland and slow in the beginning. But it picks up in act two to deliver a breezy, feel-good musical.
Another revamp, but a meaningful one, is Jules Verne's 1870 sci-fi classic, Twenty Thousand Leagues Under the Sea. Its sea creatures, submarine (the Nautilus) and nefarious Captain Nemo have been updated at the New Victory Theater.
Grad student Jules (Rick Miller) imagines himself back in time -- and in his favorite story -- trying to clean up the plastic-strewn sea. Plus, he's on an adventure with Prof. Aronnax (Suzy Jane Hall), who is busy investigating a scary underwater threat.
There are kidnappings by nasty Captain Nemo (Richard Clarkin), giant squids who have to be killed and a great escape. The action is augmented by interactive tech, which ensures the audience an entertaining and thoughtful experience.
Miller, who doubles as director, has the characters engage the audience, which enhances their fun. Credit Deco Dawson's wonderful multimedia projections and Yannik Larivee's set and eclectic costumes for bringing Verne's classic to life in such an exciting way, coupled with a strong eco-message.
There are heady themes here, and Miller and Craig Francis' adaptation doesn't shy away from confronting them -- or throwing in the occasional literary reference, such as Moby Dick. The pacing keeps the action lively and introduces the 8+ crowd to a much-loved classic in an innovative way.
Related
Popular in the Community