By moving from its usual big top on Randall's Island to the magnificence of Radio City Music Hall, Zarkana ups its theatrical impact. Set in an abandoned theater in a stylized art deco New York, the latest Cirque extravaganza is darker, more mysterious and cinematic than its predecessors.
Billed as a rock opera, Zarkana has borrowed its visual cues from Art Nouveau, Klimt and the colorful film Moulin Rouge. Its multimedia set design and choreography is wildly artistic -- and more than a little menacing. And it's that dreamy, otherworld aura that best utilizes Radio City's superb technical capabilities.
Set designer Stephane Roy's singular landscape, coupled with beautiful lighting and inspired costumes, propel the tale of Zark, a magician who has lost his mojo and his lover. On a journey to recover both, he is distracted by a series of surreal creatures. This being Cirque du Soliel, the story is abstract; the real joy is the extraordinary acts Zark meets along the way.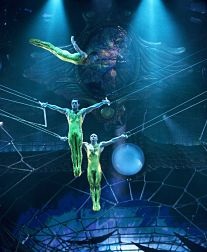 The show opens with clowns Hocus and Pocus, whose goofiness break up the various high-flying, eye-popping exploits: from aerial hoops and high-wire acrobats to jugglers and an exquisite sand painter. There's even a magnificently creepy siren surrounded by 150 feet of "snakes." The show kicks off its subterranean exploits with a spider that ensnares victims in her giant web.
Director Francois Girard counts film (Silk, The Red Violin) and opera among his credits -- and it shows. A talented team take Zarkana as far as its imaginations -- and mesmerizing performers -- can soar.
But for true skullduggery, consider Measure For Measure, part of this year's Shakespeare in the Park at the Delacorte Theater. The play's themes -- political and sexual hypocrisy -- make the drama one of the Bard's most accessible. So do the juicier secondary roles, which add comic overtones to a dramatic tale.
The Duke (Lorenzo Pisoni) pretends to leave town so his deputy Angelo (a rather staid Michael Hayden) can quell the debauchery in Vienna where "corruption boils and bubbles." The Duke, disguised as a monk, keeps an eye on his progress. Bloated with power, Angelo overreaches.
He imprisons Claudio (Andre Holland) for getting his fiancée (Kristen Connolly) pregnant, though the two plan to marry. More astounding in a city of licentiousness, he sentences him to death. Royal adviser Escalus (John Cullum) requests a pardon for Claudio's one fault: -- "Some rise by sin, and some by virtue fall" -- but Angelo is unmoved.
Enter Isabella (Danai Gurira), a novice who pleads for her brother's life. Isabella is a tricky role, a virgin wedded to purity yet forced to reckon with power. To her horror, Angelo offers to trade sex for her brother's life, proving himself as vile as those he rails against. Chicanery abounds -- and the Duke must devise clever schemes to set things right. His ultimate pardon of Angelo seems to undermine his initial resolve, though he devises a domestic solution that smacks of poetic justice.
Given its racy setting, the production is tamely staged. The leads acquit themselves well, though Hayden's Angelo needs to be more nuanced. It's Lucio (an expressive Reg Rogers), Claudio's friend, and Pompey (a crowd-pleasing Carson Elrod), a clownish pimp, who steal the show. Their baseness, on balance, appears less offensive than Angelo's purported virtue. This Measure is a pleasant repast rather than provocative fare.
Separately, for the seven and under crowd, who favor short and upbeat, try ImaginOcean, now at New World Stages. Written by John Tartaglia, Tony-nominated for Avenue Q, it features three fish puppets -- Tank, Bubbles and Dorsel -- who stand out against the black light technology that illuminates the stage. They even occasionally sail into the audience.
The theater is small and the cheerful story is 50 minutes. The focus is friendship, with six prerecorded songs in various musical genres bringing home the message. The undersea adventure has referential bits to famous family fare; for instance, Dorsel resembles the Cowardly Lion. Like his Oz inspiration, he must overcome fear to help Leonard, the octopus.
Tartaglia voices three of the leads and succeeds at his goal: ensuring his audience leaves smiling. Come September, ImaginOcean swims out of New York and into a national tour, hitting more than 30 cities, including Los Angeles, Tampa and Austin.
REAL LIFE. REAL NEWS. REAL VOICES.
Help us tell more of the stories that matter from voices that too often remain unheard.