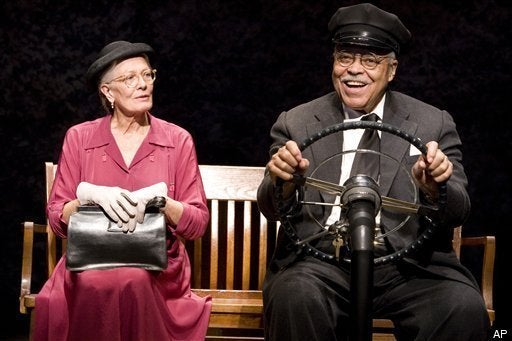 In its quiet, spare way, Driving Miss Daisy is a moving snapshot of mid-20th-century Southern life. A minimalist meditation on race relations and unlikely friendships, playwright Alfred Uhry transformed childhood memories into a global success. Now at the Golden, the sensitive revival of Driving Miss Daisy, which covers 20+ years in the life of Miss Daisy (Vanessa Redgrave), a strong-willed Southern Jewish widow, and her chauffeur Hoke (James Earl Jones), is a reminder of the oddly tender way people connect.
The play opens in 1948 when Miss Daisy, a lifetime resident of Atlanta, plows her Packard into the garden wall, and loving son Boolie (Boyd Gaines) insists she get a driver. Miss Daisy, who grew up poor, but married a successful man, is frugal about money -- and protective of her independence. She fights Boolie, but in the end, Hoke appears. Their relationship, combative on her side, deferential but determined on his, grows into an enduring interdependence, played out against the civil-rights struggles in the South.
Cruelty, insensitivity, love and endurance all play a role here. Miss Daisy and Hoke, religious and racial minorities, band together, even if it takes time, and several unintentionally humorous exchanges, to acknowledge that reality.
Uhry says the characters of Miss Daisy and Boolie are composites of his own family; Hoke is based on Will Coleman, his grandmother's chauffeur, a man he considered his grandfather. "He understood he was working for this old lady who would flap around a lot, but who could be very vulnerable underneath," Uhry told USA Today. He's captured her strength and vulnerability, though Redgrave, unlike Dana Ivey, who beautifully originated the role off-Broadway in 1987, is a bit brittle.
That aside, her ramrod-straight Miss Daisy has a stubborn dignity; what this seasoned pro does with a can of salmon speaks volumes. Watching her and Jones, a pitch-perfect Hoke, is something. These two theatrical titans make a small play big, aided by a wonderful Gaines and David Esbjornson's deft direction. Together, they transform a simple narrative into an unforgettable night in the theater.
Equally unforgettable, but less celebrated, is Billy Strayhorn. If you don't know his name, you know his music. In the hands of Strayhorn, jazz's leading romantic, big band music is hot; it's also elegant. Strayhorn worked as Duke Ellington's collaborator, often under-credited, for nearly three decades. Wynton Marsalis and the Jazz at Lincoln Center Orchestra happily correct that oversight with The Music of Billy Strayhorn, November 5-6, at the Rose Theater.
Strayhorn arranged many of Ellington's band-within-band recordings and was known for his classically infused sounds, which added polish to Ellington's compositions. The Duke called him "my right arm, my left arm, all the eyes in the back of my head." But Strayhorn was also an accomplished pianist/composer in his own right, writing famous jazz standards such as "Lush Life" and "Lotus Blossom," "Take the A Train," "Chelsea Bridge" and "Johnny Come Lately."
According to Robert Levi, director of the Emmy-winning documentary Billy Strayhorn: Lush Life "scholars and historians credit Strayhorn with having written as much as 40% of the Ellington Orchestra's material during his tenure with Duke Ellington, from 1939 through 1967." Sadly, few know of his virtuosity, or that this shy mega-talent created some of the most important and enduring American music of the 20th century. Actor Wendell Pierce, from HBO's The Wire and host of Jazz at Lincoln Center Radio, will host both nights. It's a rare opportunity to celebrate the sophisticated compositions that were Strayhorn's hallmark.
On a lighter note, Oprah and Stephen Colbert have been bubblized, thanks to the artistry of the Yang family. The Yangs, the bubble artists behind Gazillion Bubble Show at New World Stages, turn soap and water into an eye-popping theatrical experience that's perfect for children. The show is a fantastical leap into Zen simplicity. Bubbles spin inside bubbles in an array of gorgeous colors. Bubbles blast from the walls and the stage. They even bounce. Several eager audiences members, and there are no shortage of volunteers, are literally enveloped in giant bubbles. No surprise there: the Yangs, who produced the largest bubble in the world -- 156 ft. in length with a surface area of 4000 sq. ft. -- are in the Guinness Book of Records. The 85-minute, no intermission show uses wands, tubes and jet effects to produce its singular creations, coupled with terrific lasers and lighting effects. For little kids, this is the perfect treat.
Calling all HuffPost superfans!
Sign up for membership to become a founding member and help shape HuffPost's next chapter