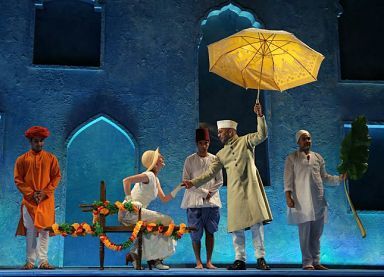 Stoppard is having a banner revival year in New York. First, the achingly beautiful Indian Ink, now at the Laura Pels, and the upcoming The Real Thing on Broadway.
The playwright, who spent part of his childhood in India, has fashioned Indian Ink as a chamber piece, an intimate story of love, memory and cross-cultural miscues. It's as much a chiding of presumptuous biographers, as it is a study in the sensitivity and caprices of love and time.
Set in the India of 1930, divided between raja and British rule, the play focuses on the lovely Flora Crewe (the exquisite Romola Garai), a sensual poet who was painted by Modigliani and enthralled H.G. Wells. In Jummapur, India, she draws the attention of painter Nirad Das (Firdous Bamji), and their relationship, at once gentle, teasing, flirtatious and caring, is rendered with great sensitivity.
As the play moves back and forth in time, between 1930 and the 1980s, her sister Eleanor (Rosemary Harris) and an enthralled academic (Neal Huff), piece together Flora's legacy, via her letters. Suddenly, memory and moment come alive. Dismissed in her lifetime, Flora Crewe is now worshipped in university circles.
As Pike looks to prove his own cultural assumptions, Stoppard zings both the admirer's biases, as well as the inability of paintings or letters, however attentively deciphered, to fully capture the enormity of a singular life.
And Flora is a captivating subject. She's outspoken and opinionated, describing Gertrude Stein as "poisonous old baggage who's traveling on a platform ticket," while chiding Das' excessive politeness as "too Indian." Of course Das, like many Indians of the period, are enamored of all things British, while proud of their own heritage. The quest for identity, alongside colonialism and cultural taboos, is dissected with a careful eye.
The entire cast is pitch-perfect, especially Garai and Bamji, who possess a subtle chemistry. Director Carey Perloff has smartly fashioned Indian Ink of a piece: Robert Wierzel's lighting, Neil Patel's simple but evocative set, and original music by Dan Moses Schreier enhance Stoppard's hugely seductive tale.
On the musical front, Australian actor John R. Waters, with a strong assist from Stewart D'Arrietta, brings his version of John Lennon's artistry to Lennon Through A Glass Onion. The show, now at the Union Square Theater, has been a touring mainstay for the two for 20 years.
The premise: Lennon as aging rocker ruminating on his past; there's no through line or chronology. He just muses on fame, religion, revolution and Yoko -- alongside 34 of his beloved songs, such as "All You Need Is Love," "Revolution," "Nowhere Man" and "Woman." The effect, however, is more rueful than raging. The real John Lennon, evident in snarky, occasionally hostile interviews, often came across as the quintessential angry young man. Yet, he was also charming, wickedly clever and compelling -- and it's difficult to capture such a potent brew.
Waters dons a Liverpool accent, and recreates Lennon (and McCartney) classics, but in a voice more reminiscent of Dylan than the provocative Beatle. Admittedly Lennon is a tough act to follow, which makes Through A Glass Onion, though sincere, hard to pull off.
For pure visual entertainment Cirque Alfonse offers Timber!, a quirky, feats-of-strength show now at NYU's Skirball Center. Image rugged Canadian lumberjacks engaging in gymnastic hijinks with abandon. Axes, bottles and saws are props for this down-home circus troupe.
Timber! is a song-and-dance extravaganza; it employs French folk music, thrilling acrobatics and a wild and crazy ride through a family farm. It's the natural world -- tree stumps, pine logs -- that inspires this talented, zany group.
Their energy and strength is impressive; there's even a sassy whip scene that keeps the action moving. While the bathroom humor could be excised, and the pacing a bit slow at the start, Timber! quickly becomes a night of aerial, eye-popping fun.
REAL LIFE. REAL NEWS. REAL VOICES.
Help us tell more of the stories that matter from voices that too often remain unheard.