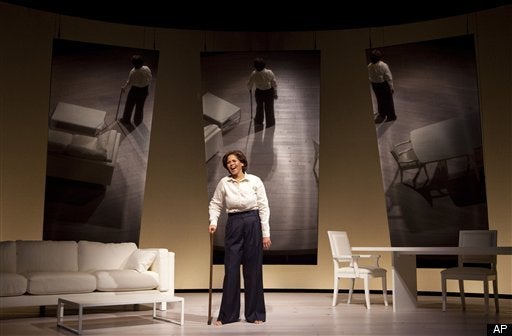 Give it up for Ragtime, a sweeping, ambitious revival that, with the election of Barack Obama, carries added resonance. The musical, an adaptation of E.L. Doctorow's novel about early 20th-century America, is moving, stirring and not to be missed. Real historic figures, like anarchist Emma Goldman, Harry Houdini, Evelyn Nesbit and Booker T. Washington, loom over a narrative that tackles a time of extraordinary social, economic and cultural change.
To capture the era's pain and promise, three distinct narratives dovetail: a wealthy WASP household with Father (Ron Bohmer) and Mother (a beautifully layered Christiane Noll); Tateh, a Jewish immigrant (a splendid Robert Petkoff) feverishly working to make a better life for himself and his young daughter; and a Harlem couple, Sarah (Stephanie Umoh) and musician Coalhouse Walker Jr. (Quentin Earl Darrington), struggling with a troubled love affair.
But revolution -- personal and global -- is in the air, aided by the seductive music of ragtime. As the new century emerges, labor protests, female emancipation and the liberating power of syncopated rhythms come to the fore. Both Tateh and Coalhouse endure bigotry, though it's Tateh's transformation, born of suffering and hard work, which symbolizes the American dream. Coalhouse, ably drawn by Darrington, is a more flawed character, though his love for Sarah is redemptive.
So are the cries for justice and liberation -- echoed by Houdini, "that fabulous immigrant" who literally breaks the chains of oppression, and Younger Brother (a terrific Bobby Steggert), who stumbles onto a labor rally led by a striking Emma Goldman (a standout Donna Migliaccio) and embraces a new political ideology. Destiny never sounded so good.
Ragtime, at the Neil Simon, is a big production with big themes, and thanks to the streamlined efforts by Terrence McNally, who adapted the novel for the stage, and director Marcia Milgrom Dodge, whose snappy pace matches the nascent modern age it evokes, it's a winner. Lynn Ahrens and Stephen Flaherty songs, such as "Your Daddy's Son," "Till We Reach That Day," "Back To Before" and "Wheels of a Dream," are powerful anthems of sensitivity and hope, while Derek McLane's sparse set, Santo Loquasto's costumes and Donald Holder's lighting help bring a glorious story to life.
British playwright Alan Ayckbourn traffics in smaller, more personal travails, best known here for the recent revival of The Norman Conquests. His 73rd play, My Wonderful Day, is now at 59E59. The title is actually the essay that Winnie, the 9-year-old daughter of a pregnant cleaner, is writing. Her attentive mother (Petra Letang) works for a high-flying, but estranged married couple; but when she suddenly goes into labor, Winnie is left in the care of oblivious adults.
The play is told from Winnie's perspective; she takes in everything -- including the chaos and pathos the adults reveal. Winnie, a girl of African-Caribbean descent, (an extraordinarily talented Ayesha Antoine), doubles as conscience and confessional for the uptight grownups, including the narcissistic husband Kevin (Terence Booth), lackey Josh (Paul Kemp) and well-intentioned Tiffany (Ruth Gibson), who either talk down to or around her. And Ayckbourn, who also directs, mines the missteps for humor.
He also sets up a class/race comparison; the cleaner dreams of a better life for her daughter and is adamant about her studies. The privileged whites are either self-involved or emotionally starving; Tiffany tries, while wife Paula (a crisply funny Alexandra Mathie), takes the situation in hand.
My Wonderful Day, a quiet play, is personal for Ayckbourn, who was raised by a single mother and, like Winnie, felt protective of her. He's adept at domestic comedy and stripping away social pretensions, aided by an ensemble that hits its mark.
Sending up societal expectations is also the aim of The Gayest Christmas Pageant Ever!, a comedy about a struggling gay theater company in West Hollywood. Each year, it stages an abysmal production -- which audiences and critics faithfully ignore. This season, through a series of wacky events, the producer, director and resident drama queens decree the play must go on -- and import a savvy New York director to corral a success. Chaos of the camp variety ensues -- with 24 actors playing 40 characters in an alternative Christmas spectacular.
Now playing at The Actors' Playhouse, Gayest Christmas, has some genuinely funny bits, like renegade Brokeback Mountain-type cowboys at the nativity scene, and various over-the-top hissy fits by an assorted GLBT crew. But Joe Marshall's script also suffers from unnecessary scenes -- be it a group coming-out saga or a painfully preachy monologue about gay marriage. A secondary problem is the cast -- the acting is wildly uneven. Marshall has a terrific premise, but as with many holiday productions, it needs to be trimmed back.

REAL LIFE. REAL NEWS. REAL VOICES.
Help us tell more of the stories that matter from voices that too often remain unheard.