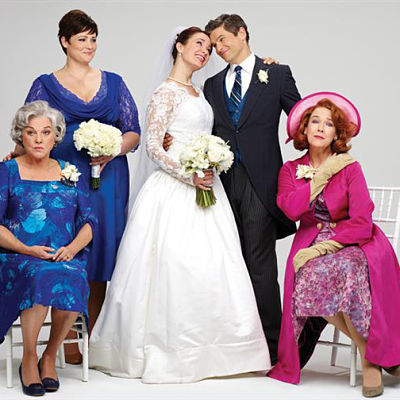 It Shoulda Been You, now at the Brooks Atkinson, plays like an old-fashioned Broadway musical, circa 1968. Much of the template is dated.
It opens at a modern-day wedding, in which the Jewish bride (Sierra Boggess) is unsure and the non-Jewish groom (David Burtka) is busy mispronouncing Yiddish words New Yorkers hear every day.
That creaky perception is aided by the stereotypes: The pushy Jewish mother and the WASPs who drink to excess, and the inevitable culture clash between Jews and Christians. Frankly, it's hard to imagine a 30-year-old Jewish girl today who doesn't know the word conniption.
The thrust of It Shoulda Been You, as the title suggests, is that there will be additional plot twists and big reveals, which are gamely played. But, there's a preachy element that, despite first-rate performances, gets tired fast.
Still, the screwball comedy-paced show, directed by David Hyde Pierce, isn't without kooky charm and entertainment value. That's thanks to two Broadway vets: the wonderful Tyne Daly as the mother of the bride and Harriet Harris, the mother of the groom, who does dipso like a dream.
Brian Hargrove's book, based on a concept by Barbara Anselmi, is well-plotted and we meet all the major characters -- and their conflicts -- in the first few scenes. They run the gamut from ex-boyfriend Marty (Josh Grisetti) to big sister with the belter's voice Lisa Howard, lovely in William Ivey Long's costumes, to wedding planner Edward Hibbert, who anticipates every need.
Anselmi's pop score is fun and melodic, but it's sometimes hard to distinguish one song from another.
Still, the show seems targeted to a suburban crowd, comfortable embracing digestible bits of progressive ideals. And everyone will enjoy the performances, even if Shoulda shoulda been better.
Gigi, now at the Neil Simon, has a different problem. The musical tale of a young girl in 1900 Belle Epoque Paris, groomed to be a courtesan, seems sanitized for a 21st-century American audience.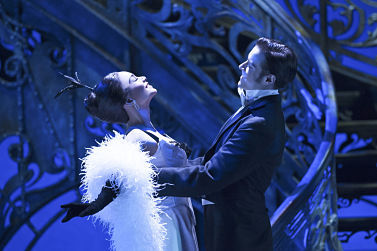 The Broadway production offers the wonderful Lerner/Loewe score, Catherine Zuber's gorgeous costumes, Derek McLane's lovely art nouveau sets and Natasha Katz' s dramatic lighting -- and all evoke the period with élan.
The issue is the plot line. (Never mind that no one attempts a French accent.)
Colette's original story makes Gigi 15, while her suitor is much older. Wealthy men of the era supported mistresses, part of the milieu of upper-class life. Courtesans were groomed; sexual favors were one weapon in their arsenal. Wit, charm and artistic sensibilities were others.
Those who enjoyed the prosperity of the era also indulged in new entertainments, like the Moulin Rouge cabaret, while dining at the city's most chic and exclusive establishment, Maxim's -- all captured here.
Now, however, Gigi (a perky Vanessa Hudgens) is 18 and her friend-turned-suitor Gaston (a solid Corey Cott), a 20-something sugar king. She encourages his love of aviation, as her grandmother Mamita (Victoria Clark) and Aunt Alicia (a stylish Dee Hoty) educate her in the gentle art of seduction.
"Men are temporary, jewels are for life," explains Alicia, a once-famous courtesan now independently wealthy, who boasts some of the best lines in the show.
Gigi is brimming with youth and high spirits in a world of artifice. She, unlike Gaston's former mistress, Liane (a spot-on Steffanie Leigh), has no obvious agenda. The art and price of love and seduction, the guise of respectability in a decadent era are on display. But because Gigi and Gaston are equally matched, there is decidedly less tension or, for modern audiences, less unease at the commercial nature of high-society sex.
Heidi Thomas' adaptation aims for ordinary romance, rather than the risqué.
But those memorable songs! "Thank Heaven for Little Girls" is sung by Mamita and Alicia, which is less creepy than hearing Gaston's aging uncle Honore (Howard McGillin) croon it, which happens in the well-known film. Honore has his own lost love, Mamita, and their rendition of "I Remember It Well" is touching, while Hudgens proves her chops in "The Night They Invented Champagne."
Choreographer Joshua Bergasse, also responsible for the electric On The Town, recreates high-kicking numbers reminiscent of a Toulouse-Lautrec painting. Gigi is glorious to look at, but too tepid for devotees of Colette.
Photos: It Shoulda Been You/Joan Marcus; Gigi/Margo Schulman
Calling all HuffPost superfans!
Sign up for membership to become a founding member and help shape HuffPost's next chapter