 The exotic can be seductive. Especially when you blend artistry with sex. That's the premise behind the flawed, but hypnotic musical Tokio Confidential now at the Atlantic Theater, Stage 2. Composer Eric Schorr is clearly a Sondheim fan, and most of his musical elements work.
The premise, however, is trickier.
Isabella (Jill Paice), is a 19th-century American widow so intrigued with Japan, thanks to her late husband, she makes a pilgrimage on his death. Customs won't let her enter the country, but on the pier, she meets Ernest (Jeff Kready) an American art historian, who agrees to sponsor her. Serendipity aside, he's there to teach the Japanese about Western art. But Ernest, like Isabella, is smitten by all things Japanese.
On a visit to a famous shrine, she spots a laborer with a beautiful tattoo painting on his back. Inexplicably, she decides, despite the illegality, to secure one. Ernest introduces her to legendary tattoo artist Horiyoshi (Mel Maghuyop), who undertakes the painful creation.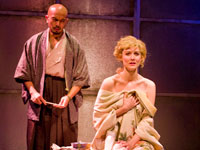 Ignoring the cultural and social restraints of the era, she not only submits to the excruciating process, she falls in love with the artist. The time is 1880, but the attitudes suggest our own. Ernest, both sincere and sinister, has an agenda -- and Schorr's surprising climax has a terrific dramatic twist.
While there are pluses to the show, particularly the lovely music, influenced by Noh, an ancient form of Japanese musical theater, beautiful video projections from designer Darrel Maloney and Paice's moving, evocative soprano, there is a narrative disconnect.
Being enamored of Japanese art and spirituality is understandable, but the sudden leap to tattooing is problematic. So is the modern sensibility commingled with the 19th-century setting. Also, Isabella's late husband (Benjamin McHugh) makes ghostly appearances as an all-too-real man.
Still, Schorr is a talented composer, aided by Johanna McKeon's sensitive direction, David M. Barber's set design and a capable cast that includes Manna Nichols as Horiyoshi's lover and Austin Ku as Ernest's devoted friend. Despite the occasional misstep, Tokio Confidential is to be lauded for a provocative effort.
Calling all HuffPost superfans!
Sign up for membership to become a founding member and help shape HuffPost's next chapter