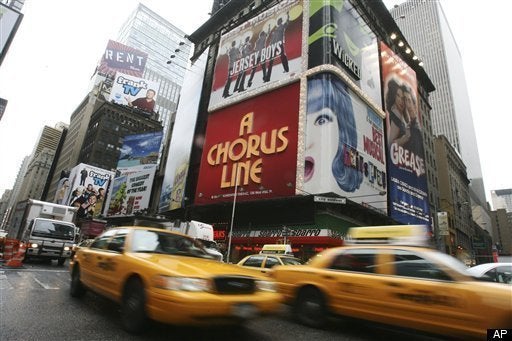 The new show at the CSC is a smart, provocative, clever adaptation of a 19th-century erotic tale of power and submission. It's also an opportunity to watch a breathtaking performance by Nina Arianda in David Ives' extraordinary Venus in Fur. She's joined by a capable partner in a 90-minute drama that deserves an extended run and wider audience.
Ives, last seen at the CSC in the remarkable New Jerusalem, based his current work on Leopold Sacher-Masoch's novella "Venus in Furs," a decadent brew about a masochistic nobleman and his obsession with a whip-wielding woman, set at the end of the Austro-Hungarian empire. Ives has wisely moved the action to a rehearsal room in Manhattan and imbued the play with a modern twist: Thomas, a director (Wes Bentley), and Vanda, an actress (Nina Arianda), are running lines from his play, a complicated story of love, obsession and kinky desire, which, in Ives' skilled hands, is rendered both cerebral and entertaining.
The story gets taken up a notch when we learn Vanda the actress has the same name as her character. Looking like a brainy centerfold, she quickly gets into costume -- a tiny leather skirt and dominatrix gear, then slips in and out of a long, ruffled, albeit see-through white dress. "Isn't that real 1870-whatever?"
As the duo switch roles and story lines -- from the play to real life -- Venus begins its funny, furious assault on the fluid nature of sexuality, domination and gender roles. Or as Vanda explains: "If love is a battle, then I have a right to be a tyrant. If men act as they do, then I have a right to make a man my puppet."
It's the "right" that keeps audiences riveted. Walter Bobbie's taut direction charges the air with a sense of danger, as Arianda switches from menace to quirky charm with lightning speed. Blurring the line between reality and fantasy can be scary. "In love as in politics, one partner must rule," Thomas says. "One of them must be the hammer, the other the anvil." Don't miss the action.
A different kind of adaptation -- a play-within-an-opera - is now at The Cell, a new multi-arts facility at 338 W. 23 St. Tosca e Le Altre Due (Tosca and the Two Downstairs) is a satiric sidebar to Puccini's Tosca, written by Italian playwright and actress Franca Valeri, who imagines a clever back story to the famed production, smartly performed by Kairos Italy Theater, a bilingual Italian/English troupe.
In the opera, Mario, Tosca's lover, is tortured by Sciarrone, the deputy of Scarpia, the corrupt police chief. In Valeri's sister tale, Sciarrone's wife Iride (Marta Mondelli) and Scarpia's doorkeeper Emilia (Laura Caparrotti, who also directs) sit together. Amid the tortured screams in the background, the two discuss their lives and each character in Tosca -- all the while plotting Iride's escape from her brutal spouse.
Iride is rendered with exquisite charm by Mondelli, who is nicely balanced by Caparrotti's gruff but crafty Emilia. Tosca e Le Altre Due is humorous and insightful, a novel way to comment on Puccini's examination of politics and passions. Kairos, dedicated to spreading Italian culture abroad, has achieved its aims here. The production and company are worthy of note.
Related
Popular in the Community