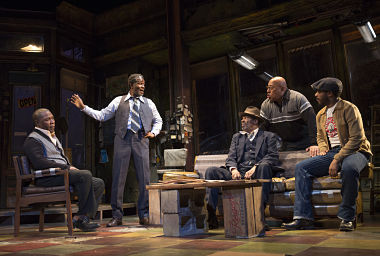 August Wilson's Century Cycle chronicles the lives and fortunes of African-Americans in the 20th century. Jitney, set in 1977 in Pittsburgh's Hill District, is among his best -- and it's making an impressive Broadway debut.
Now at the Samuel J. Friedman Theater, Jitney, which had a run off-Broadway in 2000, is set in a gypsy cab company. Because regular taxi cabs won't go to the neighborhood, residents utilize jitneys, like Becker's car service.
A character-driven drama, Jitney focuses on the lives of working men and their domestic travails -- men and women, fathers and sons. Wilson is a naturalistic writer; he captures their quirks and tensions in distinct rhythms of speech.
A microcosm of a changing America, the ensemble is presented with sympathy and the occasional moment of grace. It's like a jazz riff; each person strikes a singular chord in a larger symphony.
Becker (John Douglas Thompson) is the dignified cab owner trying to save his crumbling building from urban renewal. A respected man in the community, he notes: "It's not what you want, it's what you need. Black folks always get the two confused."
Indeed, responsibility is a recurring theme, as the men grapple with their fates. The gossipy Turnbo (Michael Potts) often tangles with Youngblood (André Holland), a Vietnam vet with a girlfriend (Carra Patterson) and child. The drunk Fielding (Anthony Chisholm) lives from one drink to the next, while Doub (Keith Randolph Smith) tries to keep the peace.
But when Becker's son Booster (Brandon J. Dirden), returns from prison, the play shifts into high gear.
Aided by Jane Cox's moody lighting, Toni-Leslie James' colorful costumes and David Gallo's perfect set, director Ruben Santiago-Hudson delivers the Broadway debut Jitney deserves. His strong, beautifully directed cast and Wilson's poetry click.
Together, they drive a memorable, heartfelt production.
While August Wilson chose Pittsburgh, his hometown, as the setting for his plays, Jason O'Connell's The Dork Knight looks to Hollywood. Specifically, the many movie renderings of Batman, his ultimate superhero, grab his youthful attention.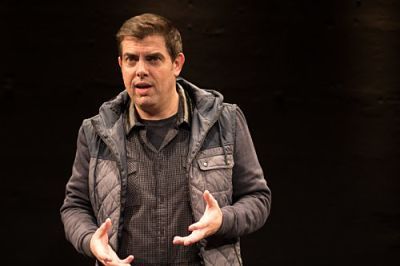 A one-man show off-Broadway at the Dorothy Strelsin Theater, Dork Knight is O'Connell's homage and obsession with Batman. A lonely kid from Long Island, he parallels his troubled real life with that of Bruce Wayne, a tormented orphan who saves Gotham.
All relationships -- familial and romantic -- are gleaned through the prism of the Batman movie experiences.
True, O'Connell doesn't aspire to superhero status, but he lives for the film releases, dissecting them with fervor. Indeed, one of the best parts of the show is his villain imitations, including The Riddler, Joker and Penguin.
Memoirs are tricky, and solo shows need engaging, sustaining monologues. While his story is touching and he mines the clever premise for humor, it drags a bit in the middle, then picks up at the end.
O'Connell assumes everyone shares his encyclopedic knowledge of the Batman movies. For those who don't, a few graphic projections would work wonders. If you critique visuals, it helps to show them.
On the plus side, his sound design works, while his sincerity and love of subject shines through. O'Connell isn't afraid to be honest and vulnerable, little wonder his younger self was first captivated in 1989 by the tall, dark and laconic Michael Keaton as Batman.
Photo credit: Jitney/Joan Marcus; The Dork Knight/Ben Strothmann
REAL LIFE. REAL NEWS. REAL VOICES.
Help us tell more of the stories that matter from voices that too often remain unheard.