Theater fans have admired her work for decades; now they can get the inside story. Actress Joan Copeland, whose worked has spanned theater, film and television, is starring in the autobiographical Joan's Show for two nights: August 15 and August 18 at the Acorn Theater on Theater Row.
Copeland earned a Drama Desk Award for her Broadway performance in The American Clock, written by her famous brother, Arthur Miller, and an Obie for The American Plan.
Ever versatile, Copeland had prominent roles in various daytime dramas, as well as the recurring character of Judge Rebecca Stein on Law & Order. She did guest spots on Chicago Hope, ER and All in the Family, among others, and various film roles, including voicing Tanana in the Disney movie Brother Bear.
Her career longevity -- despite being blacklisted -- is impressive. She made her Broadway debut in 1948 and worked in the theater for the next 50 years. Copeland shared her reflections on the actor's life.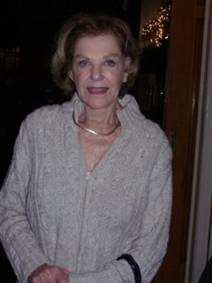 You've worked in theater, film, TV. Do you favor a particular medium?
I prefer the stage. That's where I'm most at home, where I live.
What's your favorite stage role? ?
The role of my mother was my favorite, in the play my brother wrote, The American Clock. My second was playing the leading lady in the musical Pal Joey. I enjoyed working with most people, some bring out the core character from you, and that makes a good relationship. I had great experiences in theater. Everybody leaves a mark, whether it is a smudge or a gold star.
You appeared in two Arthur Miller plays: The American Clock and The Price. Did he influence your choice of profession?
Yes, in a distant way. Arthur was not very demonstrative with me or most people. I had two brothers, and they were very different. My older brother was more like a parent, he guided me through my teen years, and the closeness was there. Arthur was hopeful in the early days and introduced me to a TV director, but he wouldn't ask someone if I could be in their play. Arthur was encouraging and had admiration. He didn't lead me to [acting], but warned me it was tough. The work has to fit you. You have to go through the experience of losing and learning. You have to have the energy and willingness to be shot down.
Were you blacklisted? How did you return to acting?
Yes, not really for what I did. I wasn't influential politically, like Arthur, who was blacklisted. Because I was related to him, I was associated with the blacklist. My career suffered a lot because of it. At the time, I didn't know that's why I wasn't getting work in television and radio. It was a disastrous happening to culture. Theater was different; it was not affected as drastically.
I never stopped acting really, except I lost a lot in television. I continued to work in theater, not in great wonderful roles, I got standbys, but I didn't mind doing it for very prominent actresses -- Katharine Hepburn for Coco, Vivien Leigh in Tovarich -- people I could admire. Understudying is more than it is cracked up to be; you get to know people. It brought me a lot of work, producers and directors would come to rehearsals and say "next time we can depend on her."
How has the world of acting changed over the years?
I was brought up to be a success as an actress in theater. There was an emphasis on theater then, now the emphasis is on television and film, and it's not always the highest grade. The level of output in television and films is lower than it used to be. The measure of success now is how much money you make, or how many hits on the Internet you get. Today, it has less to do with artistic work.
Some people have the art for camera, but not for the stage. They don't know how to receive and communicate the truth of character. The achieved success they have is unfortunate. My nephew-in-law, Daniel Day-Lewis, is someone who deserves it. I admired him before I knew we would be related.
I am a good actress and proud of my work. Today, theater suffers because people make their names in films, and producers are suckers enough to say that the movie legends will bring people to the theater.
What is your advice to actors starting out?
Don't. (Laughs) Accomplishment is different today. They don't know what it takes to be a star. You have to earn being a star. Wanting to be an actor takes hard work, dedication and suffering. You have to be willing to march down that road. The goal is different now; it should not be to become famous or rich. People used to want to be artists.
Related
Popular in the Community