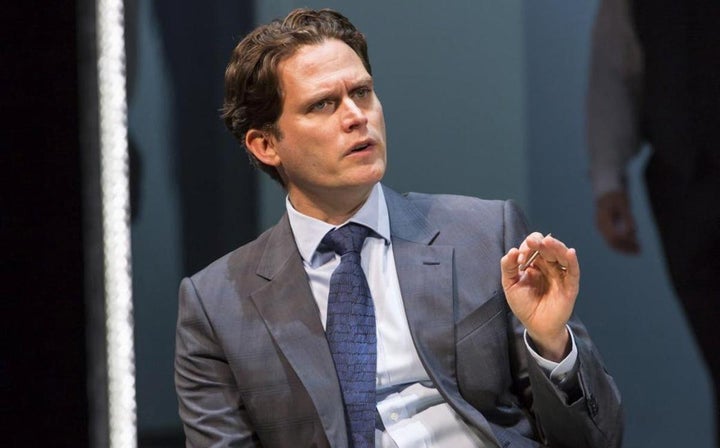 Money doesn't talk — it screams. And in Ayad Akhtar's Junk, now at Lincoln Center's Vivian Beaumont Theater, the financiers of the greed-fueled 1980s scream at fevered pitch.
The play is inspired by the criminal enterprise of Michael Miliken, the Drexel Burnham Lambert investment banker, and Ivan Bodsky, who personified the era's rapaciousness. Miliken was even celebrated by some Wall Streeters as a modern J.P. Morgan.
Like him, the duo indulges in insider trading, among other crimes. Unlike him, they are slammed for their avarice in anti-Semitic terms, a reality Akhtar, who won the Pulitzer for Disgraced, repeatedly notes. Why is it that old guard WASPs are lauded for the same behavior their latter-day Jewish counterparts are rightly condemned for?
The evils of capitalism run amuck are personified in Junk, and Akhtar smartly captures the amorality and toxicity of greed.
Miliken stand-in Robert Merkin (a strong Steven Pasquale) has his sights on a hostile takeover of Everson Steel, a family business run by Tom Everson (Rick Holmes). Merkin uses stock-market manipulations to raise the target company's stock price, forcing Everson to the wall.
He claims he's creating wealth, but that's cover for self-enrichment. He insists he's adding value. Nope, he's just adding debt. In essence, he's running a fancy financial version of a chop shop. Merkin is not an empire builder; he's an empire destroyer.
Eventually, a U.S. attorney with political ambitions, a thinly veiled Rudy Guiliani, hunts down Wall Street kingpins to prove his tough-on-crime cred. But the reality is less impressive. Miliken was indicted for racketeering and securities fraud, but he spent 22 months in a federal minimum-security prison and was allowed to keep $2 billion. You'd probably get more for knocking over a bodega.
John Lee Beatty's minimalist set works; the focus stays on the principals and the issues: betrayal, rampant illegality and a sociopathic obsession with money lust. Director Doug Hughes keeps the action moving at a lively pace and the 23-person cast delivers sharp performances.
What's lacking, however, is our emotional involvement.
Movies like The Big Short explained the financial specifics better — and why we should care. The damage done by the Merkins of the world was and is mighty, but we have to be engaged with the consequences to savor, such as it is, their downfall.
And also note the irony of their continued, unrestrained presence.
People, Places & Things addresses degeneration of a more personal nature. It opens in a rectangular box. It's the last act of The Seagull and the actress playing Nina is wasted, which, coincidentally works well for Chekhov's character. But characteristic of addicts, Emma is so high she can barely stand. "I'm an actress. I'm a seagull," is delivered as a moment of art imitating life.
As the scene ends, you see the actual audience, sitting in front and back of the stage. In short, we see all sides of this complicated, searing story.
What People, Places & Things, a National Theatre import now off-Broadway at St. Anne's Warehouse, addresses is the addict's refusal to confront reality and the insidious disease of addiction. Actress Emma (Denise Gough) is trapped in a denial so powerful she refuses to acknowledge its overarching control of her life.
Emma is a drug addict, and much of the play takes place in rehab. The most striking directorial element is a hallucinatory scene that provides insight into how painful and terrifying detox can be. The disorientation is telling, aided by noise and strobe lights. The group confrontations are equally striking.
Gough transforms herself into a tormented, resistant addict; she hits all the emotional marks en route to sobriety. It's a staggering performance of sheer raw nerves.
Barbara Marten's — range from a warm, encouraging therapist versus the harsh, controlled mother — is also impressive. Her body language is restrained; one can appreciate her anger at her daughter's deceptions and lies. Addiction isn't a solo experience; it can destroy a family.
The title reflects a 12-step slogan: Be wary of people, places and things that can trigger a relapse. But one cannot live in an insular box. Rehab offers Emma the tools for survival; whether she uses them are up to her.
Duncan MacMillan's story line is familiar. Instead, the key takeaway of People, Places & Things is how difficult it is to get — and stay — sober. What stands out is director Jeremy Herrin's stagecraft; the engaging way in which Emma's story is told.
On the musical engagement front, don't miss The Orchestra Now (TON). Its noble aim is to make orchestral music relevant to 21st-century audiences, led by renowned conductor Leon Botstein.
The musicians are handpicked from the world's leading conservatories and their performances, as evidenced by their recent Carnegie Hall rendition of Bernard Herrmann's "Psycho Suite," "Symphony No. 1" and Erich Korngold's "Symphony in F. Sharp," was dramatic and intense. TON is an opportunity to see talented musicians early in their careers.
What's so impressive about the accomplished TON is its variety — upcoming concerts include Gershwin's "An American in Paris" and Shostakovich's "Michelangelo" — and occasional free concerts at Symphony Space on Manhattan's Upper West Side.
For more information: the orchestranow.org
Related
Popular in the Community