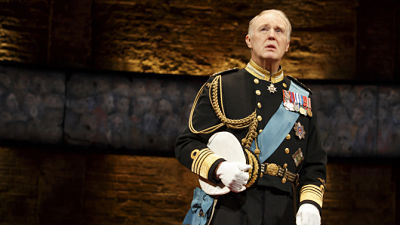 Modern British royals have long fascinated Americans, more often for their romantic scandals than an innate ability to rule.
But in Mike Bartlett's King Charles III, at Broadway's Music Box Theater, Prince Charles finally ascends his birthright: The Queen is dead, long live the King. "I am better thoughtful prince than king," he muses, in a play written primarily in blank verse.
Starring Tim Pigott-Smith in a riveting performance as Charles, the play makes a Shakespearean tragedy out of the current monarchy. Elements of Henry IV and King Lear are clearly referenced. In this post-Elizabeth II world, Charles is determined to become king on his own terms. And even before his coronation, sparks fly.
The Prime Minister (Adam James) has presented Charles with a bill about curtailing freedom of the press, following the News of the World hacking scandal. Given the press' treatment of his family, and especially Princess Diana, one expects him to wholly endorse it. After all, tradition is sacrosanct: The crown signs bills, whatever the monarch's personal politics.
Charles defies expectation.
In an unprecedented move, he lobbies against the bill, insisting Parliament revisit the issue. His boldness angers the PM, the opposition leader (Tim Robertson) and, ultimately, wreaks national havoc on what was assumed to be a stable, no-ripples reign.
All the principals are here, including Prince William (Oliver Chris) and Kate (a smart Lydia Wilson) who neatly channel the Macbeths, while Prince Harry (Richard Goulding) is at his rebellious, lost boy best.
The drama is economically staged as the principals jockey for power. Uneasy lies the head that wears the crown.
Rupert Goold directs a stellar cast, while Jocelyn Pook's music underscores both the solemnity and isolation of monarchy. Bartlett calls his work a "future history play." And while it may be fantasy, it makes for compelling theater.
Conversely, Thérèse Raquin at Studio 54 is largely about powerlessness and desperation. Emile Zola's fascinating novel centers on a young woman,
half-French, half-Algerian (Keira Knightley), in Paris in 1868, trapped in a loveless marriage with oily husband Camille (Gabriel Ebert).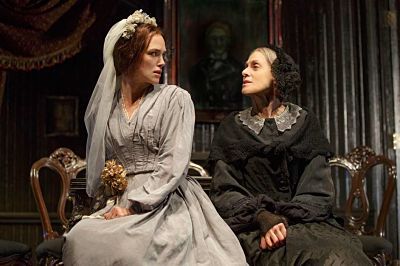 When the couple and Camille's mother (a hovering but notable Judith Light) move to a dark, claustrophobic apartment above their shop, their fate is sealed. Crushed by indifference, Thérèse has an affair with one of Camille's friends, Laurent (Matt Ryan).
United by intense erotic desire; sex is her only release. Their passion is overwhelming; but to secure their union, they see only one option: murder.
Soon, the lovers are as obsessed by death as they once were by sex. Haunted by eerie sounds and obsessive guilt, Zola's pre-Freudian tale dissects a bad conscience with artistic flourish. If only this incarnation lived up to the original.
Helen Edmundson has reconceived the novel, along with director Evan Cabnet, in expressionistic terms, at least in Act I. And the lighting and stark set design work. Knightly, known for her acclaimed film roles, is making her Broadway debut. She captures both Thérèse's longing and fear in a poignant way. Her stillness can speak volumes. Plus, she has chemistry with Ryan, who runs the gamut from loving to tormented.
But Act II has a more naturalistic feel; it's almost as if we're watching two different plays.
This is the latest New York effort to stage Zola's classic. The 19th-century story was done to great effect in 2009 at the Atlantic Theater; earlier, in 2001, Susan Stroman directed a musical version, Thou Shalt Not.
This version has a strong cast, but the direction fails to do the tale justice. Oddly, it keeps the action, and the guilt-ridden madness, at a distance. The audience is not engaged in the fierce battle between conscience and desire.
Restaging a classic in a new way is a great challenge. But the Roundabout's effort fails to hold the center.
Calling all HuffPost superfans!
Sign up for membership to become a founding member and help shape HuffPost's next chapter