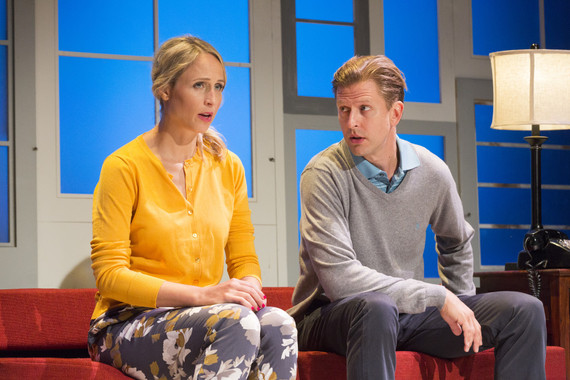 The absurd aspects of romance and marriage are pricked in Laugh It Up, Stare It Down, an off-Broadway comedy that manages to be both entertaining and glib.
It packs in ample intellectual nods, from Trollope to Egon Schiele, suggesting that when elites mate, we can expect endless philosophical discussion about the nature of their relationship.
In this instance, pampered adults deliver their one-liners about social behavior and "ecstatic love" while remaining emotionally removed. Part absurdist comedy, part a musing on fate, Alan Hruska's Laugh It Up, Stare It Down, now at the Cherry Lane Theater, turns moral equivocation into a day at the marital races.
The play begins when Joe (Jayce Bartok) and Cleo (Katya Campbell) meet at a college town and follows them through 20 years of marriage: jobs, children, affairs and their ultimate destiny.
Hruska posits various scenarios for the couple as they navigate the marital landscape. But he keeps them deliberately distant -- even when they debate whether we plan our lives or if chance intervenes.
Sometimes, Laugh It Up feels like a dorm-room discussion among pampered Ivy Leaguers. They are eager to prove their cultural, intellectual chops, but remain oddly disengaged from the reality of their existence.
At the same time, Hruska introduces a variety of incidences that are strange -- an intruder (Maury Ginsberg) enters Joe and Cleo's home -- as though it's a debating society ritual. Similarly, when the two dine with friends, the wife (Amy Hargreaves) introduces infidelity as casually as asking for a second glass of wine.
The performances are convincing, and, as directed by Chris Eigeman, it's a tight three acts in 95 minutes. There are some meaningful themes explored; the overarching notion that we live in a random universe is paramount. Hruska peppers his thesis with funny moments, building his case like a trial lawyer, a post he held for decades.
At the show's end, as the couple cling, literally, to an uncertain future, we're left to wonder about the odd journey that brought them to this point. And whether there is anything they can hold onto in a world of absurd circumstance.
Calling all HuffPost superfans!
Sign up for membership to become a founding member and help shape HuffPost's next chapter