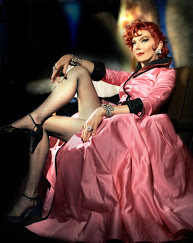 Part camp, part social commentary, the always-entertaining Lypsinka is back with three shows. The revivals of the acclaimed Lypsinka! The Boxed Set and The Passion of the Crawford are coupled with the premiere of John Epperson: Show Trash, playing the piano and sharing his life.
All are running in repertory off-Broadway at The Connelly Theater. Aside from Epperson unmasked, everything old is new again.
Lypsinka has been absent from a New York stage for more than nine years, yet Box Set has lost none of its theatricality or glamor. It's just as wonderfully tart, sassy and clever, thanks to split-second timing and stylish drag-artist mannerisms.
While Crawford features a restaging of the Hollywood diva's onstage interview in 1973, with all her grandiosity and insecurities on display, Boxed Set offers Lypsinka's signature style: lip syncing to wickedly funny excerpts from great Hollywood movies and Broadway shows.
The soundtrack includes film, musicals and concerts from 20th-century singers, such as Kay Stevens, Penny Fuller and Ethel Merman, alongside Hollywood divas like Bette Davis, Gloria Swanson and Judy Garland.
Interestingly, the extreme femme façade, conjoined with sharply edited performance snippets, creates a weirdly dissociative state, a tableau of female strength, anger, humor and torment. It is staged with military precision, thanks to director Kevin Malony, and enhanced by fantastic lighting and sound design by Mark Simpson and Matt Berman, respectively. Bryan Hoven's costumes are equally noteworthy.
It's comic -- and at the same time, an arched portrayal of exaggerated femaleness. While it helps to know the divas in question, Boxed Set is also a classic movie hit parade. The sketch of Lypsinka answering various phones, all with famed film dialogue, is nothing short of brilliant. Once an East Village staple, it's a pleasure to welcome her back.
Also on the movie front is the Vineyard Theater's production of Billy & Ray. The Billy (Vincent Kartheiser of Mad Men) is famed screenwriter/director Billy Wilder; the Ray (stage vet Larry Pine) is crime novelist Raymond Chandler, known for his hard-boiled sensibility.
The premise: the energetic, quirky, womanizing Viennese Wilder, hot off his Ninotchka success, is to collaborate with the older, alcoholic, mild-mannered Chandler on Double Indemnity, the film that would introduce film noir into the lexicon.
Sophie von Haselberg as Wilder's tireless secretary and Drew Gehling as the film's harried producer, round out the cast.
Chandler needs the work; Wilder wants to break the Production Code, which limits sex, nudity, adultery or murder. "Subtleties are fine, as long as we make them obvious," says Wilder. The gifted screenwriter hopes to evade the censors and produce a sophisticated movie adults will understand. Chandler could care less about casting or cause. He's interested in literary credibility and cash.
Their union is strangely productive; it was also, by Hollywood legend, among the most tense and spiteful. Yet none of that tension comes across under Garry Marshall's anemic direction or Mike Bencivenga's script, though both actors acquit themselves well. There is sniping, but nothing suggests they despise each other, which would liven the action. Certainly, it helps to have seen Double Indemnity and to love movie lore. Clearly, liberties have been taken in the story, but to what end? Call rewrite.
Finally, the New Victory Theater is staging Mozart's The Magic Flute, but set in a township in South Africa. The Isango Ensemble employs marimbas, drums, Tonga folklore and English/African dialects to retell the tale of love and adventure. The voices are terrific, and the Queen of the Night Siyasanga Mbuyazwe is a standout.
The animated pre-show video is an aid to understanding the libretto, since the family ethos of the theater means this show is best geared to the 12+ audience. The orchestra is on stage, and the percussion is terrific.
This South African-inspired rendition uses whimsical costumes and expressive performances to create a smooth-paced, engaging production laced with humor.
Calling all HuffPost superfans!
Sign up for membership to become a founding member and help shape HuffPost's next chapter