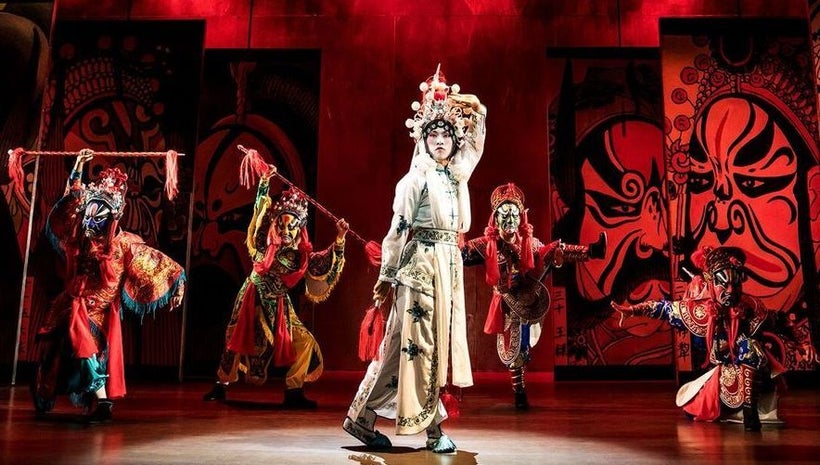 M Butterfly, the 1988 Tony-winning best play, made David Henry Hwang's reputation. Its provocative story line and themes stunned audiences 29 years ago — and the play has lost none of its power to entice.
Based on real-life events, M Butterfly, now on Broadway at the Cort Theater, explores gender politics and the politics of gender in a West meets East alliance. Frenchman Rene Gallimard (a perfectly measured and moving Clive Owen) is infatuated with Puccini's Madame Butterfly and Cho-Cho-San, the opera's doomed lover.
Gallimard is a diplomat in China, an insecure, sexually hesitant man uncomfortable with women. So when he meets Song, a male Peking opera singer who performs female roles (a nuanced Jin Ha in a difficult role), his fantasies of the submissive woman, a la Butterfly, are kicked into high gear.
Or as Song taunts him after a party: "It's one of your favorite fantasies, isn't it? The submissive Oriental woman and the cruel white man." Song doesn't correct him when he calls her "mademoiselle," further fueling his desire.
Gallimard sees what he wants to see, versus what is. He is the ultimate and deluded cultural romantic. And over a 20-year period, from repressive Maoist rule to Paris in the mid-1980s, he accepts Song as a woman. That delusion will prove costly.
The fluidity of gender is underscored by how it translates into a global polemic. The West, which sees itself as bold and masculine, views the East as female and easily suborned. Hwang's thesis about the destructive nature of sexual and racist stereotypes is noted both by Song and later by French diplomats, who, like the Americans, misread the situation in Indochina and Vietnam — with fatal results.
These micro/macro miscues underscore the story line, though many remain surprised that Gallimard could be fooled into believing his longtime mistress wasn't a man. Clinical explanations miss the point; it's his willingness to buy into the dangerous, demeaning Butterfly paradigm — rigid perceptions of male/female, East/West dominance — that seals the European's fate.
Julie Taymor, best known for The Lion King, directs with quiet restraint. She and set designer Paul Steinberg use sectional panels to set the stage, which heightens the relationship, rather than overwhelming it with artifice. (That we can leave to the principals.)
Hwang's previous plays, Chinglish and Yellowface, also address the stereotypes of East/West exchanges. In each, he extracts the nasty underbelly of Western arrogance and false assumptions that have tainted its relationships for centuries.
M Butterfly is a fascinating expose on erotic tension and fantasy — and how passive-aggressive roles play out in life and politics. This revival is smart, thought provoking and eye opening. The multi-layered story, which commingles fact and fiction, deserves to be viewed with fresh eyes.
REAL LIFE. REAL NEWS. REAL VOICES.
Help us tell more of the stories that matter from voices that too often remain unheard.
This post was published on the now-closed HuffPost Contributor platform. Contributors control their own work and posted freely to our site. If you need to flag this entry as abusive,
send us an email
.