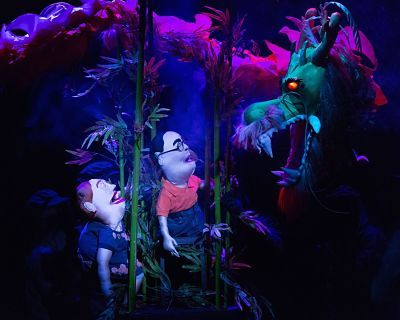 The human rights issue in China is a political minefield for the U.S., raising political and economic concerns. Washington may waver, but Wakka Wakka, the visual theater company, gets it just right.
And it does it with puppets.
Now at 59E59 Theaters, Made in China, the company's first musical, takes audiences on a roller-coaster ride of sassy commentary. A kooky exchange kick-starts a satire about our massive consumption of Chinese goods and the searing realities behind its production.
It begins with two squabbling neighbors, Mary, a 60-year-old housewife from Ohio, and Eddie, her Chinese neighbor. By various fantastical machinations, beginning with a shopping spree at Target and ending in a wild global adventure, the show makes its political case with humor and inventiveness.
The puppetry is superb, though the randy elements may raise a few eyebrows. Throw in a dragon, eerie figures and singing utensils, and you get a wonderfully creative and touching production.
Written and directed by Gwendolyn Warnock and Kirjan Waage, with a spot-on score by Yan Li, Made in China takes full advantage of the freedom a puppet show affords. The music, by Minensemblet, an eclectic ensemble based in Norway, hits just the right note.
Seven skilled performers, hidden in black clothes and veils, imbue Mary and Eddie with genuine humanity. Made in China is as wacky as it is relevant.
CSC's The Liar also entertains, while underscoring an eternal truth: Clever liars can bewitch us. Indeed, "a good memory is the keystone for a good liar," explains Dorante in the aptly titled work.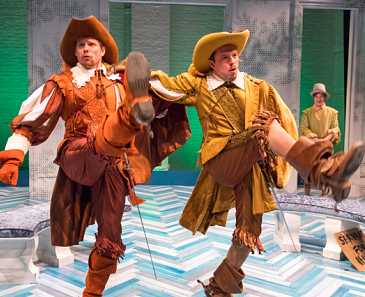 David Ives has again spun his magic to adapt-- or what he calls a "translaptation" -- of Pierre Corneille's 17th-century play, delivered in rhyming verse.
The charming rake Dorante (Christian Conn) cannot tell the truth, while his manservant Cliton (Carson Elrod) cannot tell a lie -- and we wait for the sparks to fly.
Dorante comes to Paris bent on romance; en route he manages to lie to everyone he meets, from two well-born women, Clarice (Ismenia Mendes) and her less-courted friend Lucrece (Amelia Pedlow), to his duped father (Adam LeFevre) and a highly volatile friend, Alcippe (Tony Roach).
Both he and Alcippe are courting, but given the endless lies, dubious identities and a general tendency to conflate reality, Dorante manages to upend everyone's expectations, which makes The Liar such a delightful experience.

Staged at an electric pace by director Michael Kahn, the comedy and its social commentary are smart. "An unimagined life is not worth living," struts Dorante.
There is much clever word play, expertly rendered by an excellent cast, but in the age of Trump, the expansive lies, however funny, take on a sobering tone.
Still, like CSC's earlier rendition of Ives' The Heir Apparent, the joy is watching the disparate story elements come together into a humorous and satisfying whole.
Photo credit: Made in China/Heidi Bohnenkamp, The Liar/Richard Termine
REAL LIFE. REAL NEWS. REAL VOICES.
Help us tell more of the stories that matter from voices that too often remain unheard.