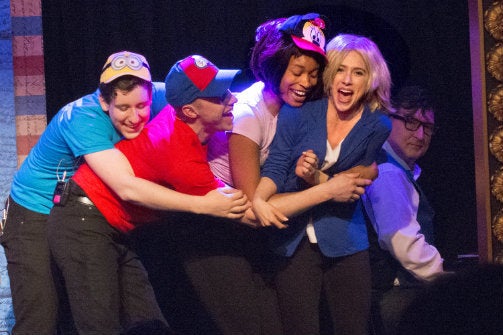 In an age of political insanity, the Trump presidency is ripe for parody. Specious claims of "fake news" abound. Twitter has replaced presidential briefings. Ivanka and Jared have transformed the White House into an excuse to enhance family riches.
And we haven't even touched on policy blunders.
Now off-Broadway at the Triad Theater, the twist in Me The People, subtitled The Trump America Musical, is that Trump never appears.
Russian collusion, Obamacare, Betsy DeVos, the Supreme Court, Melania, and an excellent send-up of Ivanka and Jared all come under comic fire. It's Forbidden Broadway for political snafus.
Zingy songs aim at the misguided, hypocritical and tragically unfit people who rep us in Washington. The hook is using famous Broadway show tunes with new lyrics, such as "How do You Solve A Problem Like Korea?" and "Hotel Mar-a-Lago."
James Bond movie music underscores the Russian/KGB connections, while the rousing finale is nothing short of brilliant. It alone is worth the price of admission.
The parody gets off to a rocky start, with a confusing number about the Constitution and the Founding Fathers. That's soon followed by an ill-advised encounter with Sigmund Freud that reiterates what every New Yorker has known since the 1980s — The Donald is a narcissistic, petulant child, given to grandiose statements that bear no resemblance to reality.
Me the People has a lame genesis, but it soon finds its footing, cleverly lampooning everything from the proposed wall to Mike Pence's reactionary creds. Clearly, the Trump crew is ripe for takedown.
And that's accomplished by Aiesha Alia Dukes, Mitchel Kawash, Richard Spitaletta and Mia Weinberger — an incredibly hardworking and talented cast. Director Jay Falzone gets the most from his nimble ensemble. They morph into various characters with ease, reminding us how important satire is at a time of national upheaval.
Smartly written by Nancy Holson, who keeps her zingers up-to-date, with musical direction by James Higgins, the show, once it shifts into gear, zips along at a fast clip. The 85-minute, no-intermission effort gives Democrats, apoplectic at election results, a chance to take comedy revenge.