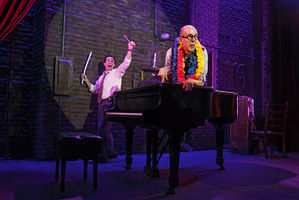 Let's give it up for two accomplished actors and pianists -- Jeff Blumenkrantz and Brett Ryback -- who utilize all the conventions of a cozy malice domestic to make Murder For Two hugely farcical and fun.
The mystery musical, which has played at previous Manhattan venues, is now at New World Stages. Murder For Two features zippy songs and lyrics by Joe Kinosian and Kellen Blair. Mystery novelist Arthur Whitney is murdered at a birthday party -- there are suspects galore, all played by the versatile Blumenkranz. He is transformed into a Southern society wife, simpering college girl, an aloof ballerina, a needy psychiatrist, etc., in the blink of an eye.
His uncanny ability to transform himself into various characters, employing vocal range while twisting his slim body into various poses, is a feat.
Conversely, Ryback plays Officer Marcus Moskowitz, desperate to find the killer and win his detective stripes, has a charm all his own. While he races to determine motive and opportunity, the audience is regaled with sweet songs and some impressive piano playing.
A large piano dominates the stage, which the duo often play together. Hands crisscross the keyboard at high speed, offering ample musical delights. This whodunit, directed by Scott Schwartz, is proof positive that clever writing and excellent actors are all that is needed to captivate an audience. There's chemistry between Blumenkrantz and Ryback, two super-charged actors blessed with energy and talent. The props are few, but the entertainment value is high.
The tale of a beautiful, but cursed princess, a handsome prince, a wicked fairy and an enchanted resolution has captivated people for centuries. It has inspired Tennyson, classical composers and Disney animators. Now, the New Victory Theater is presenting Sleeping Beauty, courtesy of Carlo Colla & Sons Marionette Company. The famed Italian company uses 165 exquisitely created marionettes, 10 voice actors and 11 puppeteers to render this tale of good and evil in singular style.
An added bonus is Tchaikovsky's beautiful ballet score.
This telling hews to Charles Perrault's 1697 fairy tale, in which the king's baby daughter is blessed by several fairies with wit, beauty and kindness, but an evil fairy, Misery, places the princess under a spell. In this version, she will prick her hand on a rose and die. Happily, one last fairy reverses the curse; claiming the princess will fall into a deep sleep for a century.
Despite the king's protective decrees, the beautiful princess is struck as a teen -- and the castle is put to sleep to join her slumber. Various machinations ensue until the inevitable rescue occurs. What's impressive here is Colla's ability to infuse such life and feeling into the marionettes. It recreates a classic with excitement, rich artistry and extraordinary sensitivity. The 3-D sets are beautiful; the costumes are eye-popping, making Sleeping Beauty so wonderful you don't want it to end.
Calling all HuffPost superfans!
Sign up for membership to become a founding member and help shape HuffPost's next chapter