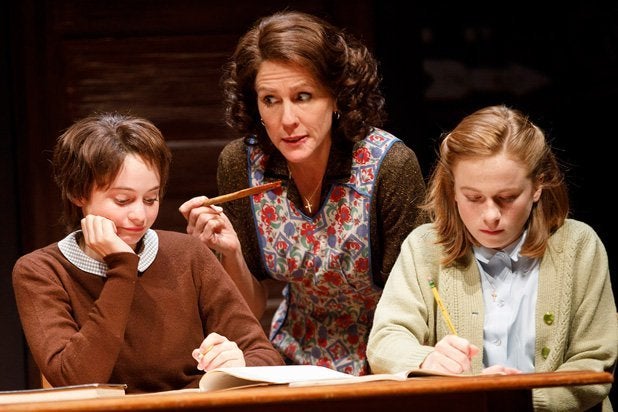 It's not easy being in the Muscolino family — especially in 1960 Brooklyn.
Working-class father Nic is a brute who terrorizes his lovely wife Luda and three daughters. Each girl has her own cross to bear.
Tensions seethe just beneath the surface — and explosions are inevitable. Think of Napoli, Brooklyn, now off-Broadway at the Laura Pels, as the female version of kitchen-sink realism, New York-style.
The daughters wrestle with issues of sex, class and gender. The anger at the social expectations of immigrant daughters is commingled with a determination to escape their fate.
Well, at least in the case of tough, sassy Vita (Elise Kibler) and teenage Francesca (Jordyn DiNatale), who double as proto-feminists. They want their slice of the vaunted American freedom, though practically, they have little room to maneuver.
If anything, Napoli, Brooklyn demonstrates why the women's movement was inevitable.
As the play opens, we quickly learn the sisters are locked in prisons of their father's (Michael Rispoli) making. Vita has been temporarily banished to a convent. The eldest, Tina (Lilli Kay), seems doomed in a dead-end factory job. Teenage Francesca sees escape as her only option.
Their mother, the centerpiece of the drama (a standout Alyssa Bresnahan) is caught between worlds: a volatile husband, and the gentle, caring attentions of Mr. Duffy, her Irish butcher (Erik Lochtefeld).
Playwright Meghan Kennedy has produced an intimate portrait of working-class life in which constriction is sometimes trumped by knowledge, and insight is born of turmoil. Act one builds slowly, but act two is potent.
Even if it appears somewhat stereotypic, the drama is heartfelt.
The ensemble cast, directed by Gordon Edelstein, is uniformly strong, while Eugene Lee's economical sets illustrate, rather than clutter, the action.
In the cross-culture vortex of Napoli, Brooklyn, post-war happiness is in short supply. Love, however, can bloom anywhere.
Related
Popular in the Community