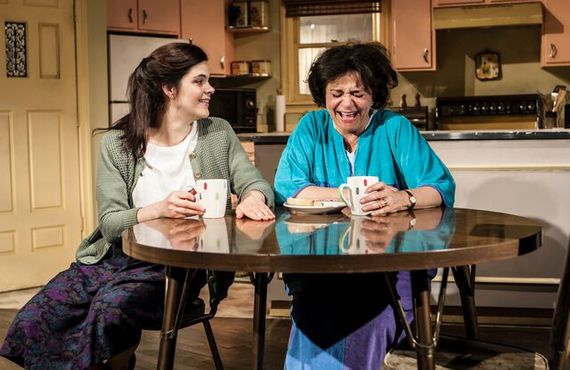 There's a tiny hint of A Glass Menagerie in Nice Girl, the Labyrinth Theater's latest production, now at the Bank Street Theater. Jo, 38, lives at home with her demanding yet clingy mother. Twenty years ago, she had a scholarship to Radcliffe and a bright future. But all that changed in the blink of an eye.
Neither the spiritually dead, but well-intentioned Jo (Diane Davis), nor her undercutting mother Francine (Kathryn Kates), are capable of separating from their symbiotic, soul-crushing union.
Nice Girl is set in suburban Boston in 1984, doesn't rise to the poetry of Williams, but it possesses a poignancy and moving tribute to working-class blues that's touching in its simplicity.
And its examination of internecine warfare is quietly heartbreaking.
Poor Jo. She's so defeated by life and loneliness that when her coworker, a feisty relationship-plagued Sherry (Liv Rooth) asks her what she dreams about, she registers a blank look.
Playwright Melissa Ross is adept at home truths and finding the dark humor in characters wrapped in the stench of failure. She's aided by director Mimi O'Donnell, who allows her cast to discover the emotional landmines present in simple flirtations or the possibility of joy.
The 70-seat theater seems the ideal forum for a production that explores the destructive impact of a dream deferred.
It's only when Jo clicks with Donny, a former high school classmate (Nick Cordero), a local butcher, that she even entertains the possibility of change. Or is hope just another illusion?
The cast is letter-perfect. Davis' shy smile and stoic demeanor speaks volumes, while Kate's undercutting widowed mother has a strange chemistry with her daughter. They are trapped by more than mere circumstance. Similarly, Cordero and Rooth, both seasoned, eclectic performers, acquit themselves well.
Nice girls don't finish first, but in Ross' hands, they leave a lasting impression.
Calling all HuffPost superfans!
Sign up for membership to become a founding member and help shape HuffPost's next chapter