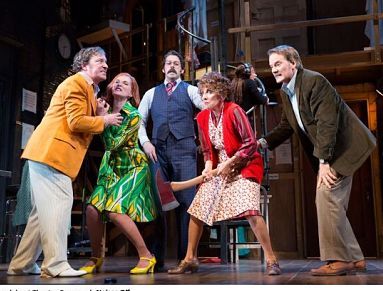 The revival of Noises Off, one of the funniest Broadway shows, is killing them at the American Airlines Theater. A crackerjack cast and razor-sharp timing are key to Michael Frayn's backstage farce, a bedroom comedy that sends up theater, needy actors and behind-the-scenes hijinks with glee.
It opens as a wacky road company is rehearsing Nothing On at the Weston-super-Mare theater in Britain. It's a silly romp, with actors starring as lovers (Megan Hilty and David Furr) in a country house, assumed to be empty. Its owners (Kate Jennings Grant and Jeremy Shamos) live in Spain to avoid taxes, so when they illicitly steal into their home, they barely avoid meeting each other.
Throw in Andrea Martin as a soap-opera actress playing a kooky housekeeper and exasperated theater director (Campbell Scott) juggling both a complicated love life and a fraught production, and it's all chaos, all the time.
Farce depends on split-second timing, especially since Frayn's play, particularly in the hilarious Act II, is performed at lighting speed. It's a matinee, and the action takes place behind the set. The crazy actions on stage are often mirrored by the insanity off-stage, of both the emotional and slapstick variety. Think dropped pants, slamming doors, missed cues.
No matter, the show must go on!
It's easy to see why Noises Off is a theatrical favorite. And the current incarnation, with a superb cast, including Rob McClure, Daniel Davis and Tracee Chimo, hits the mark. Hilty's goofy blonde clicks, while Martin, a Broadway staple, doesn't miss a beat. Director Jeremy Herrin has assembled a sharp ensemble that delivers comedy gold.
Conversely, Richard Greenberg, author of many Broadway plays, including the Tony-winning Take Me Out and Assembled Parties, has continued his family sagas, this time focusing on uncomfortable secrets.
Our Mother's Brief Affair, at the Samuel Friedman, is a four-hander with witty lines, but little drama. Anna (Linda Lavin), who may have early signs of dementia -- though there's little evidence here -- confesses to her twins that she once had an affair.
The children, Seth and Abby, (Greg Keller and Kate Arrington), who complain of her coldness, are stunned. The subplot, Seth's relationship with his mother, is fraught with sadness. His initial secret, like hers, overlaps in time, raising the question: Do we ever know each other?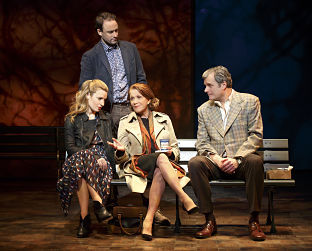 Or as Anna tells her lover (John Procaccino), "I'm not who you think I am." We soon learn he's not the man she expects, either. As Seth notes: "He was everything a Jewish boy should never be." That's an understatement.
Who he is, a big reveal in the play, dovetails into larger notions of guilt, responsibility and pathetic apologias.
Greenberg has injected an interesting element into a work that, for all its clever one-liners, lacks focus. (Noting the liberal newspaper options in 1973, Anna quips: "The New York Post was for liberals who weren't good at folding.")
The playwright's overarching interest in memory and moment is sound. Do things happen exactly as we remember? Do we embellish? Can revelations be trusted when the mind frays? Such questions are provocative, but barely explored.
In addition, the characters are cast in broad strokes, and Arrington fades into the background. Santo Loquasto's set is a chilly as its characters. Anna is described as someone with a "tendency to pose...She was nostalgic, but not for anything that had ever happened..."
Aside from the big surprise at the end of Act 1, there is the sublime pleasure of watching Linda Lavin. Every movement or inflection is telling; no one is better at acerbic New York wit. If only the play lived up to its headliner.
Photo credit: Joan Marcus