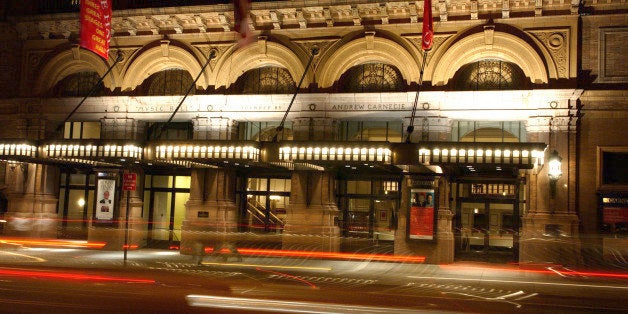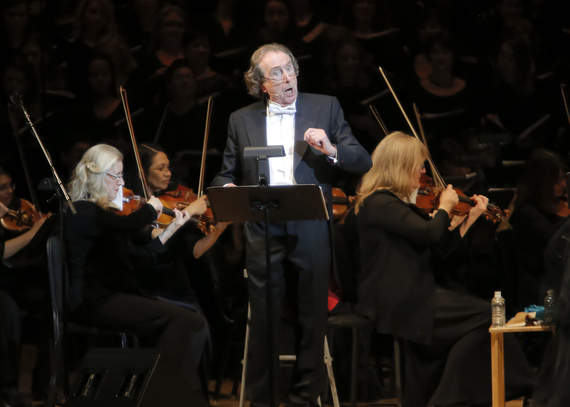 For Monty Python fans, Eric Idle is a wacky kind of genius.
A co-creator of Monty Python on TV and film, he also wrote the book and lyrics for the Tony-winning Spamalot, which ran nearly five years on Broadway. Inspired by his success, Idle turned to another Python favorite, The Life of Brian. Teamed with composer John Du Prez, the duo transformed it into a comic oratorio, aptly dubbed Not The Messiah (He's a Very Naughty Boy).
Operating on all cylinders, it recently blew Carnegie Hall audiences away.
It was performed by Idle, alongside several Broadway vets: Tony-winner Victoria Clark, Marc Kudish, Lauren Worsham and artist William Ferguson, who recently joined the Metropolitan Opera. Accompanied by the wonderful Collegiate Chorale, and a team of bagpipers, they made comic magic. The Chorale, which is noted for its eclectic repertoire -- traditional to obscure works -- is a key addition to any musical work. So is the Orchestra of St. Luke's, which regularly collaborates with Carnegie Hall.
First performed in 2007 in Caramoor Center for Music and Arts in Westchester, New York, a time Idle refers to as "the halcyon days of the Bush Administration," Not The Messiah boasts irreverent humor and an amazing score. The musical numbers rely on a range of genres -- pop to gospel, country to classical.
The oratorio is based on "The Book of Brian," the story of a young Judean during Roman rule. He is the wrong man, in the wrong place, at the wrong time. Inexplicably, despite Brian Cohen's protestations, he is mistaken for the Messiah. As history has made clear, that's never a happy ending.
When Brian admonishes followers not to look to him, but have faith in themselves, he exclaims: "You're all individuals!" They chorus: "We're all individuals!" One of the best examples of mob-think ever. Throw in Python references to the dead parrot sketch, lumberjacks and hysterical songs like "We Love Sheep," "What Have The Romans Ever Done For Us," "Mrs. Betty Parkinson" and "The People's Front of Judea" and the irreverence reaches its zenith.
Idle calls Not the Messiah "baroque-n-roll." Audiences just call it terrific. If you missed the live show, take heart. It's available on iTunes, Flixster and Netflix.
REAL LIFE. REAL NEWS. REAL VOICES.
Help us tell more of the stories that matter from voices that too often remain unheard.