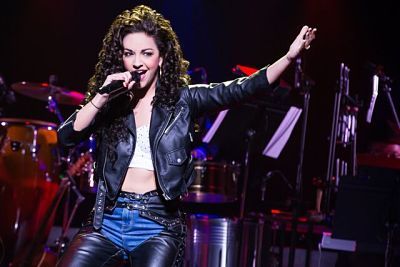 The rhythm is going to get you.
Broadway jukebox musicals, like Jersey Boys and Beautiful, have targeted loyal fans with great success. This fall's big entry in the category is On Your Feet!, the lively Latin-infused story of Emilio and Gloria Estefan now at the Marquis Theater.
Note the exclamation mark.
It punctuates the spirit of the duo and the almost irrepressible desire among audience members to dance in their seats. Thank Ana Villafane, whose charisma and energy on stage, coupled with a powerful voice, knocks the role of Gloria Estefan out of the park.
It doesn't hurt that she has muy chemistry with Josh Segarra, who delivers a handsome, sensitive Emilio. Or that Sergio Trujillo's choreography and his sensational dancers light up the stage. So do ESosa's colorful costumes, which nicely evoke the period.
In the late 1970s, Estefan kick-started her career as lead vocalist for the Miami Latin Boys, Emilio's group. With her arrival, it became the Miami Sound Machine. In a relatively short time, the singer/songwriter became a star in Latin music circles.
But Gloria wanted to sing in English.
Her breakthrough was "Conga" in 1985 on her second English-language album. The rest is music history. The Estefans built a musical empire; as a performer/producer team, they left a sizable legacy of hits, picking up a collective 26 Grammys together.
But the interesting part of any story is its genesis. Two children of Cuban immigrants helped redefine the pop landscape.
They begin with heartbreaking backstories. Both families fled to Miami to escape the Cuban Revolution. Gloria's parents endure their own heartache. Her Vietnam vet father (Eliseo Roman) is a beloved but sad figure, while a determined mother (a forceful Andrea Burns) pushes education. It's Gloria's grandmother (a charming Alma Cuervo), whose wisdom and support sustains her dreams.
Songs are anchored by the dialogue - which fit seamlessly - rather than shoehorned in, which can be a failing of the jukebox musical. Credit Alexander Dinelaris, who won the Oscar for writing Birdman and penned the book for the musical. While he chronicles Estefan's musical ascension, he also tackles family, immigration, the American Dream and the machinations of the record industry -- creating a touching, entertaining story.
Combined with Jerry Mitchell's fast-paced direction and a hot orchestra, it's an on-your-feet tribute to the enormously hardworking duo.
True, an occasional super title that listed a year and place, or a bit more history on the music scene Gloria competed in, would not go amiss. But as a quick hit of the Estefans' rise -- which probably merits a mini-series -- it's a clear crowd pleaser.
And since her fans are legion, expect a long run.
On the revival front, Sylvia, A.R. Gurney's comedy at the Cort Theater, belongs to Annaleigh Ashford. It's a light, but charming show about empty nesters who move back to Manhattan after a life in the suburbs. The kids are gone -- and wife Kate (Julie White) focuses on teaching Shakespeare to inner-city kids.
Husband Greg (Matthew Broderick), however, has a bad case of the middle-aged blues. He's unhappy with his job and adrift. He finds solace in an abandoned dog in Central Park, named Sylvia (Ashford), who he happily adopts.
The best part: Sylvia talks. And whenever Ashford is on stage, or if she gets lucky, on the couch, the comedy takes off. Sylvia is so engaging; she abjectly loves Greg: "My aim in life is to please." In turn, Greg seems to care more for her than his actual wife. As Kate rues, "He never called me sweetheart."
Was the marriage already in trouble? Or did Sylvia, whatever she represents, come between them?
David Rockwell's set for Central Park and Japhy Weideman's lighting recreate the comforts of Upper West Side existence, while Ashleigh's cute costumes are the handiwork of Ann Roth.

Aided by Robert Sella, who plays three different roles, two over-the-top, Sylvia provides gentle comedy. Broderick delivers a whiny, passive performance; he's the least interesting person on stage. White acquits herself nicely in a thankless role. The kudos belong to the versatile Ashford; wherever she goes, the audience happily follows.
Calling all HuffPost superfans!
Sign up for membership to become a founding member and help shape HuffPost's next chapter