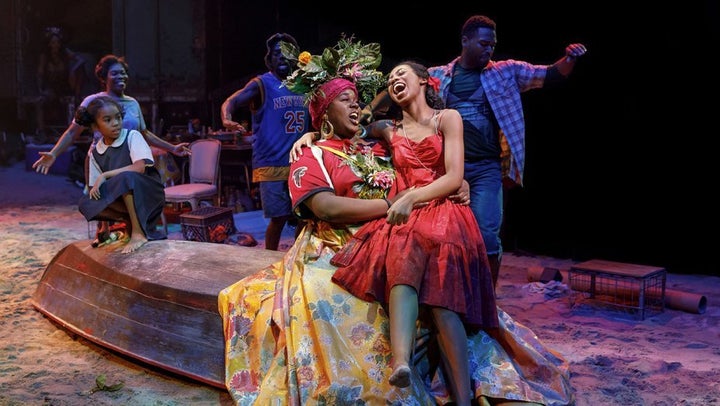 It's not a case of happy ever after, but the revival of the Stephen Flaherty-Lynn Ahrens Broadway musical Once On This Island, now at Circle in the Square, is captivating.
That's due to several factors, including the inventive use of the oval-shaped theater, a tough venue to get right, and a cast that is pitch-perfect. From the moment audiences enter the theater, they are embraced in an intimate environment.
How often do you see a goat and chickens on stage?
A magical folk tale set in the Caribbean, the musical charts the journey of Ti Moune (an excellent Hailey Kilgore) orphaned after a flood. Raised by devoted older parents (Phillip Boykin and Kenita R. Miller), the lovely young woman is swept up in a romantic encounter that will alter her life.
Based on Rose Guy's novel "My Love, My Love," the musical, with a stirring score and radiant staging by director Michael Arden, is a fast-paced fable.
It comingles love, class and heartbreak with the mysterious and capricious whims of the gods. In this case, the god of love (Lea Salonga), death (A fierce Merle Dandridge), earth (Alex Newell) and water (Quentin Earl Darrington.)
Ti Moune's trajectory — rescue, falling for rich, light-skinned Daniel (Isaac Powell) and battling societal expectations — is as much a tale of culture clash as the mythic war between love and death.
The traditional girl-sacrifices-for-boy may strike an anti-feminist chord, but en route, audiences are treated to a powerful ensemble, wonderful music and dance, and an exciting tale of youthful passions.
Clint Ramos' costumes hit just the right note, as does Dane Laffrey's sets.
A story-within-a-story, Once On This Island provides 90 uninterrupted minutes of amazing theater.
Conversely, The Parisian Woman at the Hudson Theatre, has its witty moments, but it more resembles an episode of Netflix's House of Cards than a standalone drama. That's no coincidence, since playwright Beau Willimon created the series.
It stars Uma Thurman, making her Broadway debut as Chloe, a politically savvy Washington, D.C. socialite. Chloe claims not to be ambitious, but when her tax-attorney husband Tom (Josh Lucas) desires a federal judgeship, she shifts into high gear.
After all, Washington is a city where blackmail is another name for trading favors. Chloe insists "I can't control who falls in love with me," but her motto, like Donald Trump's, is "by any means necessary." (The phrase is Jean Paul Sartre's, made famous by Malcolm X.)
However, the role doesn't seem a good fit for Thurman, an accomplished film actress.
The play is set in the present, so even members of the Republican Party toss out bon mots about Trump's tragic unfitness for office, much to the delight of the crowd.
And while the jibes fall on receptive ears, they can't save a production that suffers from wooden, often forced performances. The story has an interesting twist, but provocative? Maybe 20 years ago. But today, anything goes is an understatement.
The Parisian Woman was inspired by La Parisienne, an 1885 farce by Henri Becque that stunned audiences. But in 2017, a married woman in an open marriage hardly raises an eyebrow.
In fact, it's hard to imagine Chloe attracted to Peter (Marton Csokas), her clingy lover. Blair Brown, as a nominee for Chairwoman of the Federal Reserve, and her politically ambitious daughter, played by Phillipa Soo, are credible. But it is Brown who seems most comfortable in the role of savvy pragmatist.
And machinations work best when we care about what's at stake.
Related
Popular in the Community