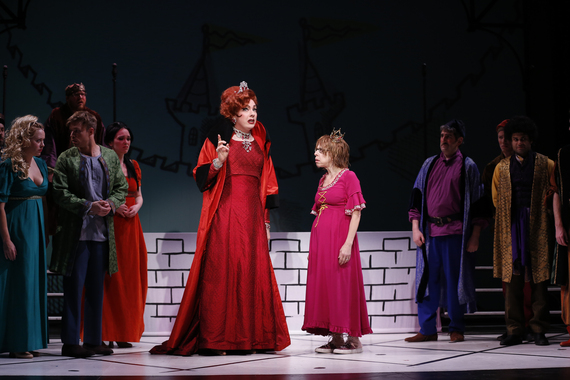 Fairy tales that end with the proverbial "everyone lived happily ever after" are strictly lightweight, one-note fare. The revival of Once Upon a Mattress off-Broadway at the Abrons Arts Center, is no exception.
The one twist: the popular Jackie Hoffman is Princess Winifred, while John "Lypsinka" Epperson snarls his way through Queen Aggravain with campy vigor in the musical version of "The Princess and the Pea."
Set in 15th-century Europe, a medieval kingdom is ruled by the sneaky Queen and her mute husband King Sextimus (a graceful David Greenspan). Sextimus is doomed to stay silent until a peculiar curse is lifted: "when the mouse devours the hawk."
Ostensibly, the royals are trying to marry off their son, Prince Dauntless (Jason SweetTooth Williams). In reality, the Queen has no interest in seeing her drab boy wed, devising absurd tests to discourage all possible mates.
And if Dauntless stays single, so does the rest of the kingdom.
So Sir Harry (Zak Resnick), besotted by Lady Larken (Jessica Fontana), sets out to the swamp lands to retrieve Winifred, who, however improbably, might save the day. A series of tricks and turns, thanks to a talented dancing Jester (Cory Linger) and Minstrel (Hunter Ryan Herdlicka), coupled with an aggravated case of puppy love, inevitably follow.
Performed on Broadway in 1959, the musical has seen several revivals, on stage and TV. It's a staid Fifties-style work, though Mary Rodgers' score is melodious and Marshall Barer's lyrics enjoyable. The Transport Group's rendition is fairly lively, given its parameters, and Hoffman is a standout. Known as a belter, she can also carry more tender melodies. Lypsinka fans won't be disappointed, either.
Arthur Miller fans who watch A View From The Bridge will be. It's Miller's centenary, so various productions are celebrating him in New York. A recent Death of a Salesman by the Yiddish Rep was a masterstroke. The West End import of Bridge, now on Broadway at the Lyceum, is not.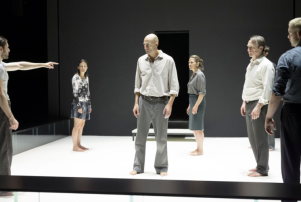 Though it stars Mark Strong and Nicola Walker, two excellent actors, the austere production misfires. It eliminated not only sets -- no view, no bridge! -- but Miller's specificity. It's like staging "Fiddler on the Roof" without Jews.
The "View" setting is Red Hook, Brooklyn, 1955, a tight-knit Italian-American neighborhood. It addresses the strength of community (absent), post-war immigration and emotional incest. Here, Eddie Carbone (Mark Strong), married to Beatrice (Nicola Walker), is obsessed with his niece Catherine (Phoebe Fox).
While Eddie is keeping her away from life, his wife's Italian cousins, illegally smuggled into the U.S. (Michael Zegen and Russell Tovey), pray for work to save theirs.
Life in America is rough; the newly arrived men will take any dock job they can get. If the authorities discover their illegal status, they'll be deported. Conversely, anyone who betrays such men is a pariah to the community.
These are deep thematic issues -- immigration, family dysfunction, community expectations. The 2009 Broadway version with Scarlett Johansson, Liev Schreiber and Jessica Hecht was personal, powerful and intimate. It captured the characters' claustrophobia and hardscrabble lives, as well as the agonizing vulnerability of men who lose economic or emotional power. At the same time, the looming view from the bridge, the promise of Manhattan, bespoke freedom.
Director Ivo Van Hove conceived this incarnation stripped of sets, time, place and ethnicity. The conception was made universal. But by whitewashing the particulars, both in design and delivery, it shortchanges the play.
It's fine to revamp a classic; British director Edward Hall has been doing that brilliantly with Shakespeare for years. But if a production doesn't stay true to a work's ethos, it undermines the original artistry.
At the end of this A View From the Bridge, the characters are bathed in blood. But the only one drowned is Arthur Miller.
Photos: Carol Rosegg/Mattress; Jan Versweyveld/A View From The Bridge
REAL LIFE. REAL NEWS. REAL VOICES.
Help us tell more of the stories that matter from voices that too often remain unheard.