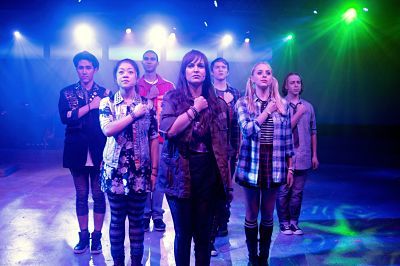 The producers of the musical Heathers have a theme: teen angst. And they are trumpeting the anthem of adolescent trauma again -- this time as a revamped version of the 1999 cult musical Inappropriate. Renamed One Day, composer-lyricist Michael Sottile has updated his pop/rock musical, delivering a high-voltage production both defiant and hugely poignant.
Now off-Broadway at the 3LD Art & Technology Center, a perfect setting for this intimate show, One Day is a song cycle that reveals the back story of teens too often dismissed as difficult or troubled. Angry, frightened and assailed by a series of problems, from drugs to bulimia to abuse, the actors utilize poetry and prose to expose their dark worlds. DJ Nyseli Vega provides a narrative through line reminiscent of a poetry slam.
Even with tight choreography and sassy lyrics, the confusion and pain is all too real, augmented by a series of fast-moving projections. That's due to its origin: The DeSisto School in the Berkshires, a boarding program designed to help teens overcome self-destructive behavior. Sottile uses real-life journal entries to give the show authenticity.
While One Day reminds young people they aren't alone in their suffering, it is also a wake-up call to adults. Adolescence is a challenging time, and it demands compassion and understanding.
That message is communicated in lilting harmonies, though lowering the sound levels a bit would up the appreciation for a terrific musical score, as well as the heartfelt lyrics. Big numbers, like the soaring "Barcelona," demonstrate Sottile's range and Honey Ribar's versatility. She belts out her fantasies with real passion. And she's not alone: Brenna Bloom, Chase O'Donnell, Marco Ramos, Aaron Scheff, Austin Scott, Ben Shuman, Andy Spencer, Charlotte Mary Wen and Aliya Stuart round out the solid cast.
One Day is a powerful lament, aided by a talented ensemble that smartly convey their inner demons and sorrows. The production is fast-paced, thanks to co-directors Sottile and Ray Leeper, and all performers get their moment to shine.
Two caveats, the issue of gay bullying is potently rendered, but the number suggests a correlation between parental behavior and sexuality, which is distracting. Better to focus on the terrors gay teens face, sensitively done by Marco Ramos in another memorable song "Sticks and Stones Suck Growing Dimmer." And cutting one or two pieces near the end would tighten the effort.
Still, One Day cannot fail to move its audiences. It's a theatrical endeavor that co-mingles sweet moments with heartbreaking ones. But what resonates is both the pain and the hope that define the human experience.
REAL LIFE. REAL NEWS. REAL VOICES.
Help us tell more of the stories that matter from voices that too often remain unheard.